Nowadays, the IT industry seems to be flourishing as never before, especially in Ukraine. This sphere is developing so fast that almost every day more and more possibilities arrive in front of product tech companies. Naturally, tech giants start to look for new horizons. For instance, the need for building an R&D center instead of hiring more in-house workers often leads IT companies to go abroad. However, in order not to face many different troubles and avoid risks during the offshoring process, they tend to cooperate with service providers that make it all work efficiently.
Speaking about different modes of work between tech companies and IT providers, there are T&M Contracts, Managed Services Models, IT staff augmentation, and other engagement models. I'm going to focus on a special kind of business cooperation called the Build-Operate-Transfer model.
What is a Build-Operate-Transfer Model?
Build-Operate-Transfer (BOT) is a form of business engagement model (and a kind of project financing) which aims at building an R&D center in a foreign location. This process is usually delegated to the chosen IT partner in a host country where the software R&D center will function.
To be more specific, a BOT IT outsourcing provider is responsible for recruitment, real estate, legal compliance, payroll, accounting, and other operational functions. However, in some time this R&D office is going to be transferred back to the client.
For example, our team was once approached by the leading AI platform provider in B2B sales from the USA – People.ai – to set up their R&D office in Ukraine from scratch. We carefully assessed the requirements of our client and created their office in Kyiv in just 4 weeks!
The R&D setup included many services like recruitment, real estate, and IT infrastructure support, as well as payroll management and legal compliance. Our tech researchers and recruiters attracted, interviewed, and hired 25+ IT experts for People.ai with the rarest skills on the market. The client also chose to use our legal and payroll services, which contributed to the flawless operation of their R&D center.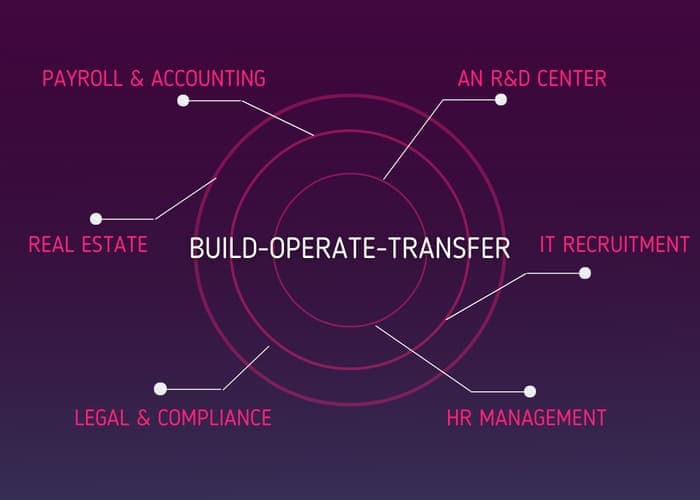 How Does a BOT Model Work in IT Outsourcing?
As its name suggests, the BOT model has three key stages:
1. Build Phase 
It goes without saying that facilities, space, and team make a foundation for the successful start of any BOT project. At this stage, the chosen IT provider employs competent staff, finds accommodation, and provides the required software/hardware. Usually, this is done at the expense of a provider's own space and resources.
2. Operational stage
This stage involves all kinds of management, starting from the office up to HR and accounting. The BOT support organization operates all necessary processes to make your business work well offshore.
3. Transfer stage
At a definite point in time, your service provider transfers the already mature business to you. Both parties negotiate an agreement. It should also be mentioned that there is a high possibility of losing the deal, since a great number of pitfalls are waiting for you at this stage.
5 Benefits of Build-Operate-Transfer IT Services
To see what exactly you will receive from BOT, I've listed the top five Build-Operate-Transfer benefits that often make CTOs go for offshoring:
– A wide range of talents
If you're based in the United States or Western Europe, you must have already noticed that it's complex to hire the right on-premises employees. It happens because of the high demand for talented developers among different local IT companies – from SMBs to enterprises.
On the other hand, the BOT model provides you with a big tech talent pool in distant and nearshore locations. For example, there are over 200,000 engineers in Ukraine alone. Beyond that, most of them are college graduates with Intermediate+ levels of English who will gladly apply their knowledge to your product.
– No white labeling
Compared to an outsourced team, a Build-Operate-Transfer agreement software team are your employees and work under your brand from the beginning. They will not develop a product and then just let you rebrand it. Offshored developers hired via the BOT provider are no different from your in-house team, yet they simply work in another country.
– Substantial cost savings
If you create your R&D office via Build-Operate-Transfer, you will do it in countries with developing markets that have a strong IT community, like Ukraine. Here, you will considerably save on office rent and developer salaries that are 73% lower than in the U.S.
Taxes are a whole different story because Ukrainian programmers and other IT specialists register as private entrepreneurs (or independent contractors) to work legally and pay only 5% in income tax.
– Full operational back-up
Your IT vendor in the offshoring country will do everything in terms of administrative tasks – from hiring people to tax consulting. This way you will be hardly involved in operational processes – and mostly focused on your core business.
– Compliance with the legislation in the offshoring location
As a rule, a skilled R&D vendor has in-house lawyers with international educational backgrounds and expertise in IT law. They will ensure the legality of the functioning of your offshore office and prepare documents for successful R&D transfer. It's even more useful if your partner company builds relations with the government to positively influence the IT industry in the chosen country.
3 Challenges of Using the BOT Model for IT Outsourcing
Even though you can reap many benefits of BOT, here are three important disadvantages that need your attention:
– Offer rejections from candidates
If your company is new to the offshore market, candidates might neither apply nor accept your offers. What is even worse, not all BOT providers can help you promote your brand in the local IT community to solve this problem.
The efficient Build-Operate-Transfer model in the IT industry presupposes working with a vendor that uses employer branding as part of your offshore strategy. For instance, they will launch your branding campaign, create your profiles in the local tech media, and fully integrate your corporate culture.
– Dedication issues
If your Build-Own-Transfer structure doesn't belong to you from the beginning, there might be problems while transferring this unit eventually to you. Some BOT providers don't recruit software engineers directly to your company and kind of assume the role of employer. So, developers might be confused about whom to report. To prevent this, make sure your vendor just helps you run your R&D facility and doesn't have access to your core development.
– No expertise in operational management
Many people think that only providers who perform professional IT services (e.g. custom software development and testing) can carry out the BOT engagement model. However, they often have no idea how to build and run R&D because it implies mostly administrative back-up support. So, if you don't want to waste your money on ineffective offshoring, you should choose a vendor with practical experience in establishing R&D offices for companies like yours.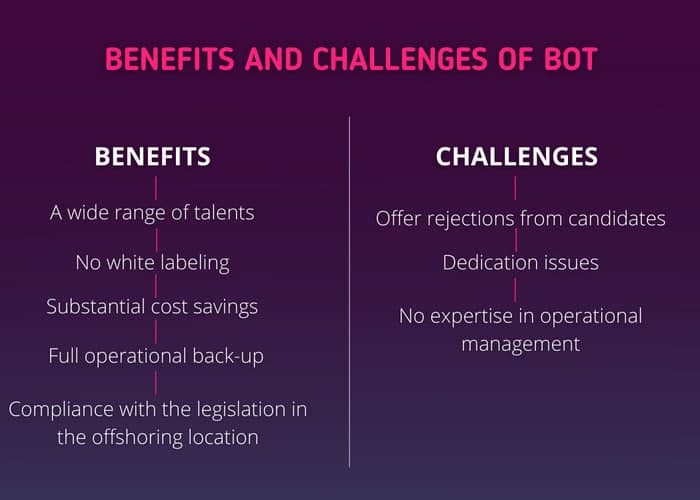 What to Consider Before Starting IT Outsourcing?
To arrange a win-win agreement with your Build-Operate-Transfer IT outsourcing vendor, you should consider the following aspects of cooperation:
Terms
In comparison to M&A contracts, all terms of the agreement in BOT are specified before the collaboration starts. However, this evokes the danger of being caught in an "agreement to agree" trap. It means that de facto the parties will agree on the price or transfer terms of their contract right at the time of making the deal. However, de jure such an agreement does not make any sense. Consequently, the deal cannot be reached.
Pricing
Obviously, no one knows for sure the price at the very moment of the deal: a million or a billion. That is why the pricing model is negotiated with some specifications taken into account. Primarily there are no definite numbers, only formula with several variables. When it is high time to sign an agreement, these variables are calculated according to the current state of the cooperation between a Build-Operate-Transfer IT services provider and tech company. In the end, you have an exact figure and set the price.
Generally, price is made up of the following constituents: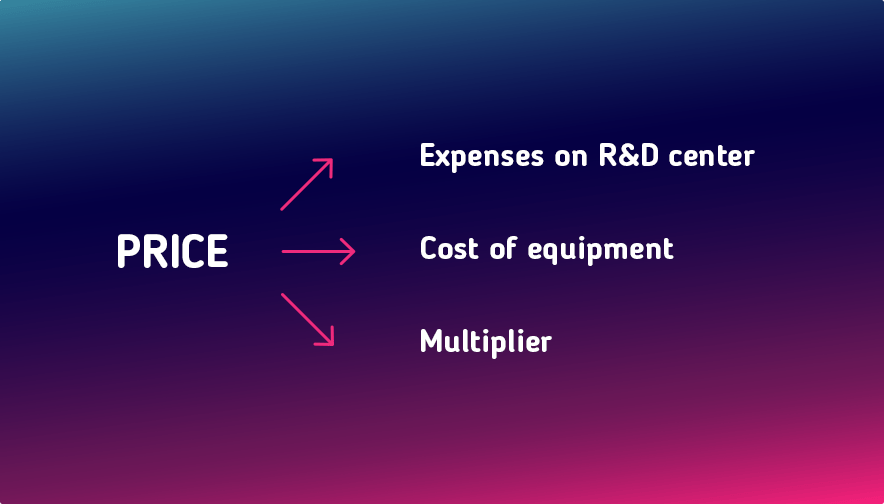 Expenses on the R&D center usually mean an average payment for a certain number of developers working for a client at the transfer date.
Multiplier is the cost price that becomes less over time. This is due to the fact that your R&D center should pay off first. For instance, if expenses on the offshore R&D office have not been covered yet, the multiplier is quite big. Within the next months, at least some money is paid back and the cost price goes up, which means that your R&D center is ready for sale. Normally, the sale is restricted by the agreement for the first 12 months.
People
Unfortunately, IT companies often diminish the role of offshore team management. As long as the staff is the main asset that transfers to you after the deal, a lot of attention should be paid to employees. Many business leaders take people's opinions and attitudes into account and communicate with them about the future deal. I faced cases when a deal with R&D transfer failed because very few people agreed to work for the new client (5 out of 30).
To make your offshoring experience as successful as possible, appoint a certain day when you are ready for communication with employees regarding the upcoming deal. Feel free to discuss the terms of their transfer. You should also keep in mind that even top tech companies in the U.S. can be completely unknown in Ukraine. Don't hesitate to invest in employer branding abroad, because in the long run it can play a crucial role. People are likely to work for a "no-name" company, but what about including it in their CVs? I wonder.
Equipment
Last but not least, you should think about the transfer of facilities and equipment. It also includes back-office and software. After the deal is reached, people and hardware are supposed to move out of the provider's place. Yet you would be better off to take care of it beforehand. There are different options on how to rent or sublease a new office. As for facilities, the predetermined assessment of your equipment is always a good idea. Software is another point of consideration here. I would like to highlight that, usually, software belongs to the third party that issues a license. You may buy a sub-license or purchase new software. The best way to handle this problem is to appoint an operational director, be it your team lead or a site manager.
As can be seen, one of the greatest advantages of the Build-Operate-Transfer model is a small number of investment funds. However, indirect access to people is a sufficient disadvantage of this model. In general, the BOT model requires plenty of effort to sustain your business adequately.
Consider Alcor BPO – Your Trusted IT Outsourcing R&D Provider
Before the quarantine, many IT companies used to adopt this engagement model in Asian countries because of the cheap workforce and quite acceptable quality of services. However, the Covid-19 pandemic has made it clear that most providers from Asia are no longer ready to sustain the same level of productivity and performance with overseas clients.
To be clearer, many workers in local countries couldn't cope with a remote mode because they didn't have the infrastructure for this. Thus, their clients suffered from delayed deadlines or didn't receive any results at all. This situation forced American and European business executives to stop cooperating with Asian providers and switch to more attractive locations for outsourcing for the sake of the BOT model in the IT industry.
So, if you're interested in obtaining the benefits of the BOT model but don't want to create your R&D branch in Asian countries, our BPO company Alcor can set up a remote software team for you in Poland, Romania, Ukraine, and other Eastern European countries.
Build-Operate-Transfer Case Studies
Opening a research and development center for Tonic Health is one of our company's Build-Operate-Transfer case studies. This is an IT product company based in Silicon Valley that develops a platform for medical data collection. They wanted to offshore to Ukraine, but at first, the company decided to create their R&D office on their own. Tonic Health faced all Build-Operate-Transfer pros and cons, and the main problem was that candidates refused to accept their offers. Eventually, they reached out to us and we signed a contract.
In the end, they got what they wanted – the dream office with their own branding, fast IT recruitment in Ukraine with no offer rejections, proper accounting services, detailed HR management, and the needed insights into the local IT market to build a prosperous business in Ukraine!
Although our services may seem similar to traditional Build-Operate-Transfer, we don't have the "transfer" stage that implies buy-out fees and additional transfer costs. Since the development team belongs to you from the very beginning, we don't take over direct management of your Ukrainian development center, but legally protect your IP rights so that you keep confidentiality.
Moreover, we differ from other R&D providers because we specialize in helping IT product companies set up their dedicated offshore development centers in Ukraine. Alcor's clients grow their teams and boost their sales, using our BPO services. For instance, People.ai managed to attract the needed $100 million in investments in 2021 and is now estimated at $1,1 billion!
Apart from People.ai and Tonic Health, we also worked with such tech giants and large businesses as Samsung, Huawei, Grammarly, Amadeus, Certent, and many others.
How do we work?
We find an office space and take care of all the furnishings and procurements for an R&D subsidiary of our clients. If a client refuses to have a physical office, we establish home offices and the IT infrastructure for their offshore employees.
Then we can hire Romanian developers or software engineers from other Eastern European countries who belong to your company from their first working day. Our role here is to find and pre-screen eligible candidates for you to choose the best IT talent. We also become responsible for legal support and compliance of our clients' operations within local laws. For your business in Eastern Europe, our team plans and pays taxes to local authorities, creates and maintains employee records, and pays salaries to the development crew. Sometimes our managers deliver additional services like the legalization of foreigners or M&A deals support if the client needs it.
Final Thoughts
In conclusion, I would like to note that both the psychological and legal aspects are of great importance when running an R&D office. If you are considering nearshoring vs offshoring in Ukraine, draft all possible terms of the agreement at once. Then you are likely to receive a dedicated team and profitable business.
According to my observations, there are various Build-Operate-Transfer advantages, disadvantages, risks, and opportunities. Nevertheless, the IT market is gaining ground, particularly in Ukraine. So, if you're planning to open an R&D center in Ukraine, you should choose a vendor who can not only take care of back-office functions for your center but also guarantee the safety of your intellectual property and ensure dedication from offshored employees.