No matter what drives you crazy these days – the lack of qualified employees or huge expenses on staff – you're not alone. During 15 years of experience watching companies establish R&D centers, I've seen business giants like Grammarly and BigCommerce cut costs on IT services in half or more through offshoring.  So today we're going to learn about what to do if you're in search of good (yet cost-effective) software developers and why Eastern Europe is the go-to place to do so. Besides that, you will be fully equipped with all the pros & cons of IT offshoring and be the first to discover fresh IT offshoring trends for 2021. Stay tuned!
Everything you should know about IT offshoring: advantages and disadvantages
Offshoring IT services is one of three models of expanding your business in other countries. The other two are outsourcing and outstaffing, but that's a whole different story. While nearshoring implies setting up an office in the neighboring state or city, offshoring goes further and lets you obtain a full-fledged office abroad.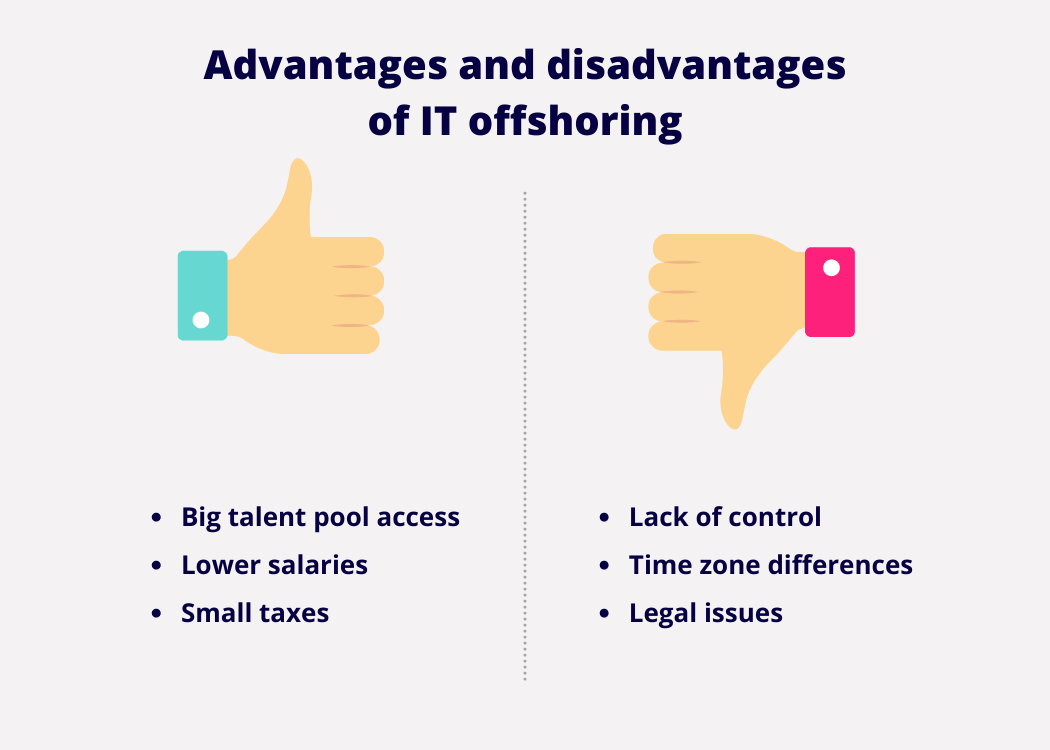 What advantages do you get if you go for offshoring?
Big talent pool access
How many decent software developers are there in your area? I guess not that many if you're reading this article. Even though Statista says there are around 23 million developers in the world, the States could boast of only about 4 million developers in 2019. The numbers seem huge, right? But it doesn't equal an abundance of employees.
2021 is sure to bring a shortage of approximately 1.5 million developers in the US, while the demand for them will grow faster than ever. Offshoring lets you hire as many software developers as you need. This is what SBTech, global sports betting solutions provider, did in Ukraine. The Alcor team hired 16 developers in 1 month for SBTech and filled in their talent gap.
Lower salaries
If you go to Glassdoor, you'll find out that the average salary of a JavaScript developer is roughly $94,000 per year in San Francisco, California. That's a lot, but they do a great job, you might think. But what if I told you that JavaScript developers can perform the same tasks and charge 5 times less?
For example, a good JS developer from Ukraine makes $21,000 per year on average. Young, motivated team players from countries like Ukraine are ready to join your team ASAP at a pretty cheap rate – and you might be surprised at how good they do their job.
Small taxes
US taxes are sometimes overwhelming, even for big enterprises. Whenever you hire a new team member, you must be ready to pay thousands of dollars for their maintenance. According to the IRS publication, only 50% of US taxpayers are somewhat satisfied with the system.
In countries like Ukraine, software developers pay only 5% of the income tax, while programmers in the US and Europe pay up to 50% of the income tax. This way, one of the many benefits of offshoring IT is saving costs on taxes, not only on wages.  
What disadvantages does offshoring have?
Lack of control
When you're recruiting a team abroad, you may find yourself limited in management. But, you can address this problem by hiring a team leader with strong leadership traits who will report to you on the progress and lead your offshore team to keep them motivated.
As can be seen, the offshoring model enables you to establish direct management that will be instrumental to avoid possible communication issues. No mind-reading needed, just trust your team leader and be transparent as you share your ideas with the new team.
Time zone differences
While this sounds challenging, having different time zones may be beneficial for you. Imagine yourself going to sleep while appointing a new task to your team. In-house employees will probably complete it in the morning, while an offshore team is likely to deliver results before you wake up.
Yes, you'll have to adjust to the time zone of your new team to make calls and conduct meetings. Do that effectively by planning your meetings or Zoom calls. A little tip: your team will thank you if you warn them about it several days in advance.
Legal issues
Offshoring to Ukraine or other overseas countries implies abiding by the local laws. But, sometimes, country laws do not regulate IP rights issues well. The solution to this problem is proper legal structuring that provides a more flexible direct transfer of confidential data between you and your offshored team. This way you will always start offshore software development safely.
Another way to prevent data leakages and not get exposed to legal threats is to work with professional local lawyers. They are sure to implement smart tax planning solutions, help you to follow labor law, contract law, and intellectual property law, as well as avoid pain when you sign lease agreements. Besides, this is safer than working with outsourcing companies since you don't need to share your corporate data with intermediaries.
Difficulties of offshoring IT every CTO must know
If you're already aware of all the IT offshoring advantages & disadvantages, let's go through the main difficulties of offshoring IT that 100% of CTOs had.
Trying to do everything on your own
Technical executives work on product development, paperwork, HR, and hire offshore engineers at the same time. To skip the pain of writing tons of emails to your local team lead and overload him/her with operational work, go for a good recruitment team first. They'll handle talent acquisition in IT sector so that you are able to focus on the core business.
Ask Tonic Health (acquired by SCI Solutions), the leading provider of revenue cycle management services with almost 20,000 employees worldwide, what they think about it. The company wanted to hire about 5 new employees in 1 month using their inner resources but ended up receiving too many offer rejections. Alcor helped Tonic Health. Our best HR managers found software engineers for them fast and Tonic finally established their R&D center in Ukraine.
Looking for services in different providers
If you're a CTO looking to create a new office abroad, you'll probably need to:
a) find a place for an office,
b) hire an IT team,
c) meet all the national and international legal compliance standards, and
d) be in charge of payroll and documents abroad.
You might think that you should do this one by one by seeking help from different agencies. This is a daunting task, to be honest. I know the solution. The best way to do this is to build trust with an all-in-one-place agency, like Alcor.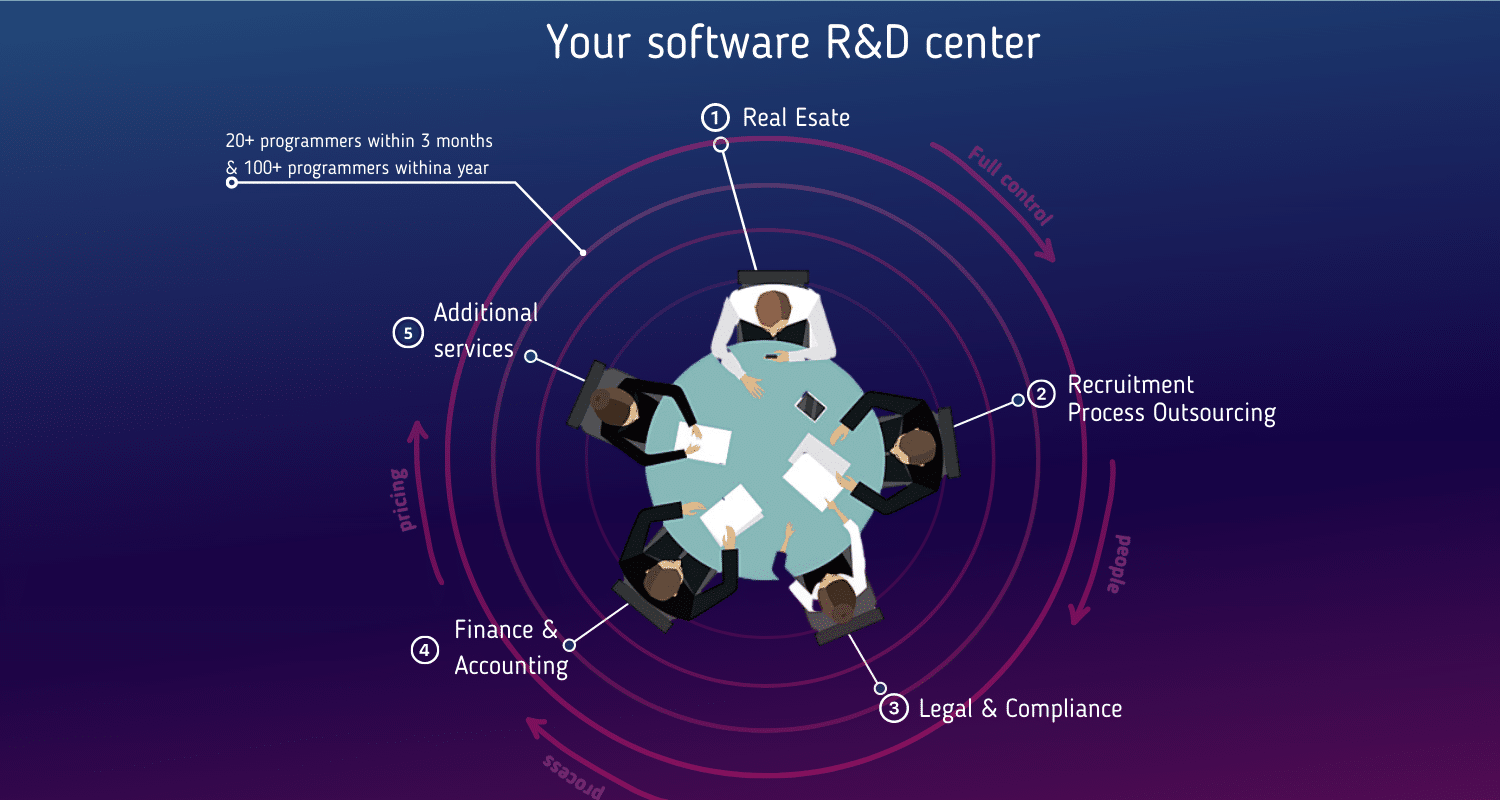 Cultural differences
Imagine that you're developing a strategy to meet your company goals that include offshoring IT. To have things under control, you need your offshore team to adjust to your company's work style and vice versa as soon as possible.
Benefit from offshoring IT services and be on the same page with your team. What do I mean by this? Share your core values and explain how your in-house team manages different projects to your new developers. Suggest they share their experience with you as well.
Benefits of offshoring IT if you need good developers
Although IT offshoring has its downsides, the benefits far outweigh them. So what exactly do you get if you develop an office abroad?
Loyalty
It may not be your priority now since you're probably thinking about offshoring as a way to get more team members. But, in the long run, you will understand the importance of having your own employees abroad who are able to completely focus on your project and deliver excellent results. Offshoring makes it possible from the very beginning with no need to buy out your offshore developers.
In the case of outsourcing, you're likely to lose your team when the contract ends. Your outsourced developers know that their job is done and start working for other companies, maybe, even your competitors. To prevent this, you can use the buy-out option and pay an additional fee for this.
Cost-efficiency
If you pay less in taxes and save on your developers' salary, you get more funds for other activities. You may improve your product, or spend more on marketing and PR. You can even build two more R&D centers and they'll still be cheaper than creating another office in the Valley. So, if money-saving is your priority, go for IT offshoring.
Besides,  you can also save on the rent since a large office is no longer necessary given the pandemic. For instance, the WeWork occupancy rate fell to almost 65% in September 2020. Thus, go for a small office to occasionally gather your team there.
IT offshoring trends you should consider to be #1 on the market
The future of IT offshoring is quite bright. One of the major development trends for 2021 is the focus on employee retention. According to the study by the Work Institute, voluntary employee turnover is expected to reach 35% in 2023. It exposes companies to the risk of losing their top talents and sacrificing sales.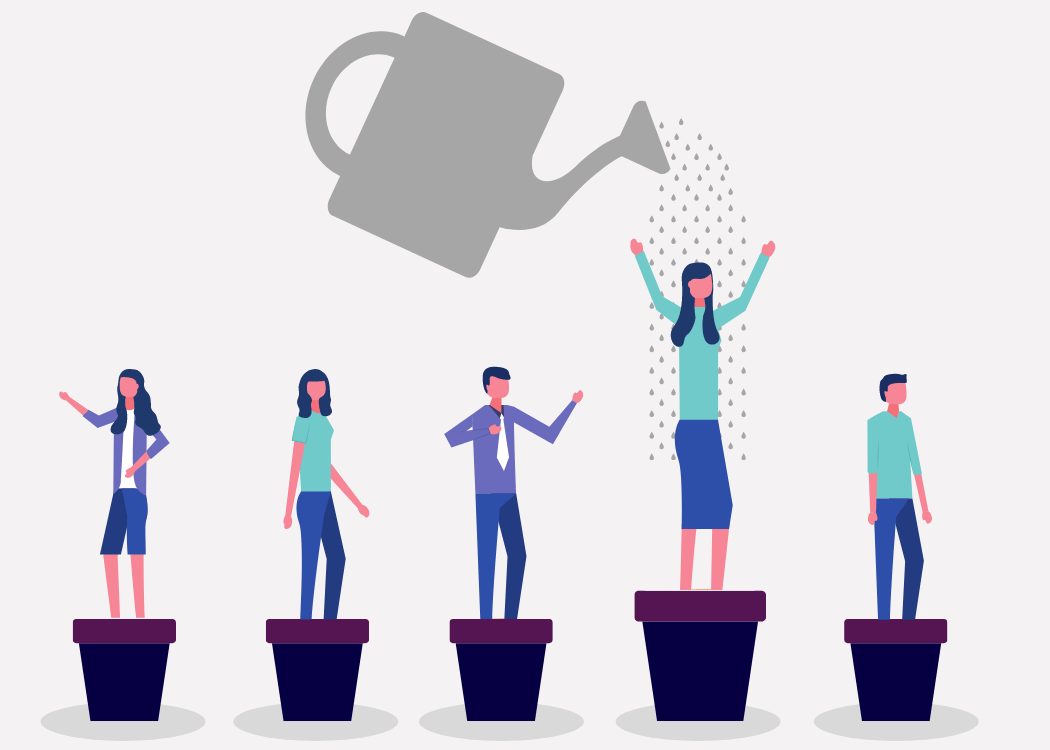 The US work culture may slightly differ from the European one. For example, Ukrainian developers tend to look for better opportunities (just like their western colleagues) but they do that more rarely. In 2019, the total quitting rate among employees in the United States was almost 28%, while in Ukraine this number was 20% in 2018, according to UBR.
If you think this is the only problem, you're wrong. Human Resources Today states that US businesses must pay up to $1 trillion dollars each year to hire new workers. Thus, you need to do everything possible to make your workers stay with you as long as possible and save the money on hiring.
Final Thoughts
IT offshoring might be challenging, just like any other employee-engaging model. If it's your first time with offshoring, use the services of reliable providers that have a portfolio of successful offshoring examples will be there for you at every stage of your R&D center development. They know what to do with real estate, documents, payroll and accounting, and hiring in offshoring countries like Ukraine.