The arrival of new technology companies boosts the demand for IT specialists, and already we see the Western IT market is experiencing a shortage of human resources. At the same time, the high rates of software engineers prompt tech businesses to look for alternatives. One possibility for cost-savings is offshoring. It has already become a winning solution for many IT companies that want to expand without largely increasing their expenses.
What is Offshoring?
Offshoring is a process of shifting production or delegating business tasks to foreign specialists. It implies that a company employs people abroad, usually in a developing country where wages are several times lower. This works well for manufacturing and IT as well as marketing, sales, and customer care processes. Offshoring actually appeared long ago when the first companies decided to open factories abroad. Since that time, it has transformed and taken other forms. While many people believe they understand the essence, they often mistakenly use this term as a synonym for outsourcing. Let's remove any uncertainties and clarify what it's all about.
In the case of offshoring, people who work abroad are the company's employees. They can act as separate specialists, be a part of a small or middle-sized team, or constitute large offices. In any case, they act under the company's brand. In the IT sphere, offshoring usually takes a form of a foreign office, software R&D center, or dedicated development teams located abroad. Those are popular tools for business owners to cut back expenses while preserving stable growth rates. But you should know more, so let's jump right into the benefits and limitations of the offshoring business model.
Benefits of Offshoring
The offshoring model is prominent for its cost-effective solutions. Following is a list of financial benefits of offshoring software development.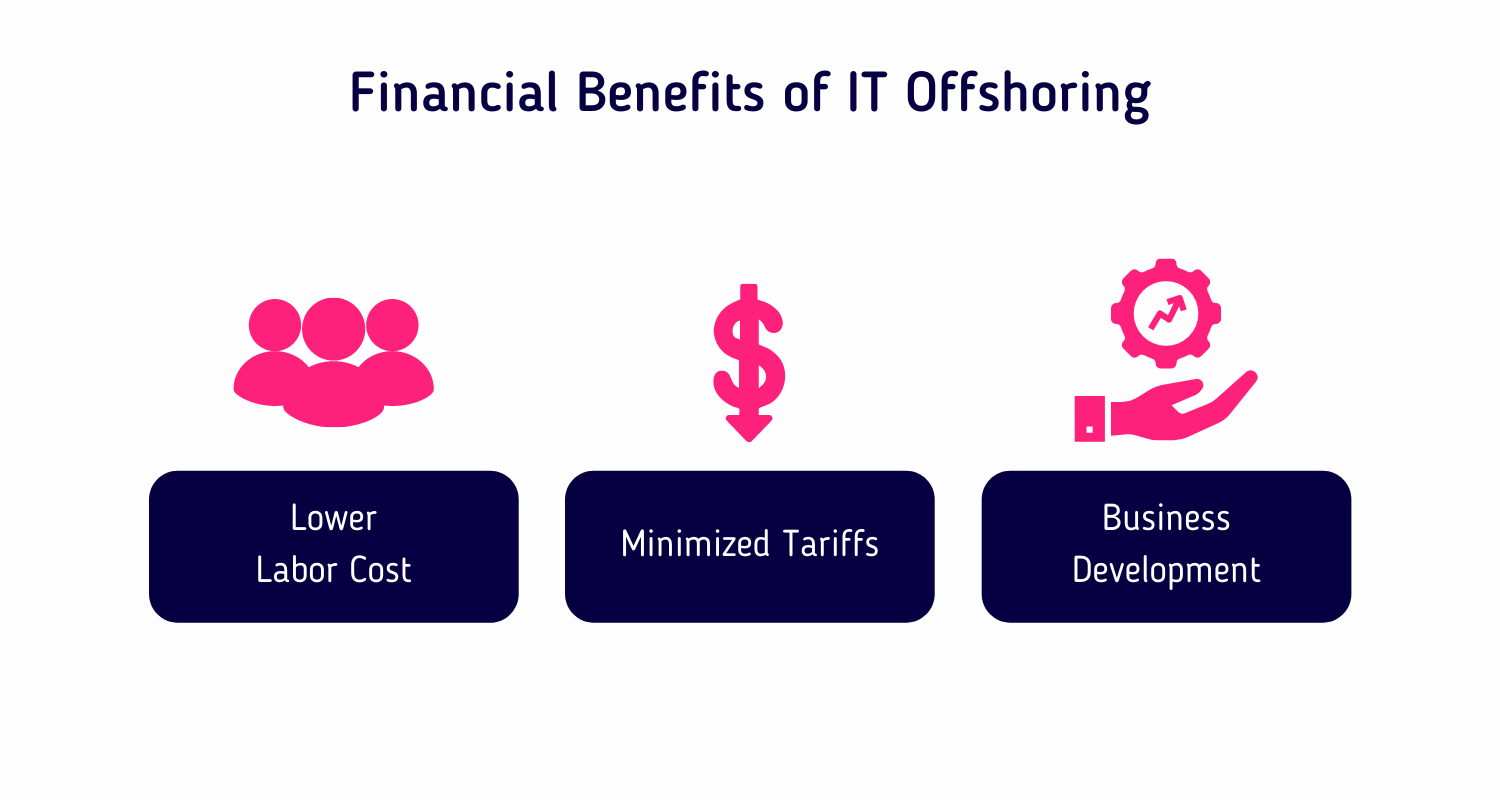 Lower Labor Cost
Business is always about earning more money. To increase income, companies seek ways to optimize expenses, and hiring lower-paid human resources may seem a solution. In such a situation, the market for IT specialists in developing countries such as Poland and Romania (with up to 70% lower salaries) offers an excellent opportunity.
Minimized Tariffs
If you plan to offshore to a developing nation, you can enjoy a variety of incentive programs. Within their framework, some states provide tax incentives to stimulate foreign investment. It's a real bargain in itself!
Business Development
Among all the cost-saving benefits of offshoring IT services, there is also a possibility for business growth. Due to reduced labor costs and taxes, companies can reinvest their revenues to expand services and improve products. All in all, by paying less for particular operations you enable strategic reinvestment.
Types of Offshoring
We've already explained offshoring, but companies may sometimes choose a modified form. Those are offshore outsourcing, onshoring, and nearshoring. Combining the features of two models, offshore outsourcing stands for delegating your activities to third-party companies located abroad. In this case, it's about involving foreign firms, agencies, or freelancers with a special expertise.
Nearshoring is also quite like offshoring but involves hiring talent from nearby countries. As a result, it offers the same offshoring benefits, e.g. lower wages and reasonable quality, yet nearshoring is even more advantageous given the reduced time difference, similar values, and geographic proximity.
Onshoring is another type of business delegation activity that involves external specialists within your country. The following picture illustrates how offshoring, near- and onshoring work for a US-based company.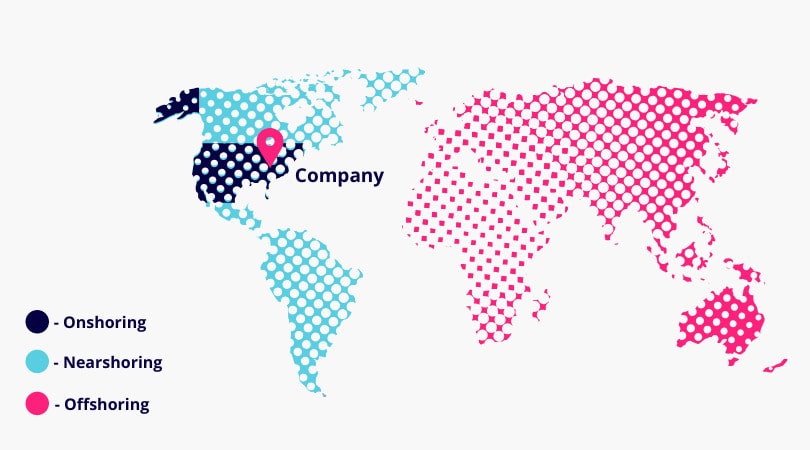 Limitations of Offshoring
Naturally, offshoring of IT services is quite different in all facets from in-house management. To see whether it fits your business, let's learn about possible limitations.
Limited Control over Offshore Team Structure
While collaborating with third party companies, you can barely influence some decision-making processes (including offshore team structure). Since your offshore delivery manager can be assigned to another project,  you might have to establish a rapport with a new person each time.
Lack of Synchronization and Сontrol over Daily Activities
Sometimes you may feel that your project is going slower than expected. However, due to little control over your partners' day-to-day work, it may be hard to detect what exactly has gone wrong. Therefore, you might find yourself in a position of accepting any explanations you are given. To avoid delivery delays you have to ensure that offshoring operations are managed on time.
Lack of Transparency in Pricing
In case of offshoring part of your business activities, there is a risk of becoming the victim of crafty offshoring agencies. A business move that seems unreasonable to you, such as involving extra money or human resources, can be presented as compulsory by your colleagues abroad. That's how vague pricing may result in overcharging. Take this point into consideration and choose your partners thoughtfully.
Risks and Challenges of Offshoring
Despite the benefits of offshoring IT services, there are also some challenges to consider. So let's take a closer look at possible risks and the ways to address them.
Retention of Employees
Nowadays, people get easily tired of the small routine tasks, i.e. they want to see the results of their work and get career promotions. It's not a surprise that your colleagues from abroad face similar concerns. However, due to remoteness these internal employee issues could become even more difficult to manage. An effective solution to avoid this is to implement a direct engagement model that would bring you closer to the offshore development team (and make them feel a valuable part of the global team).
Risk of Data Leakage
When extending your activities to new countries, remember that laws or tech security may differ across locations. Therefore, you must take extra measures to secure all your information and prevent possible data leaks with the help of local lawyers or qualified consultations.
Legal Differences
Apart from data security, there is also a set of laws of the offshore country to abide by. Because of that, it's crucial to examine relevant terms and conditions before establishing your offshoring team overseas. Alcor knows how stressful this can be, so we can manage any legal queries for you – as we did for Grammarly. 
 Pros and Cons of Offshoring
Below you can find information about the benefits and risks of offshoring software development. Overall, if the offshore model is implemented wisely, it will provide you with sound cost-effective solutions. Therefore, to develop a winning strategy, it's essential to take the possible drawbacks of offshoring into account.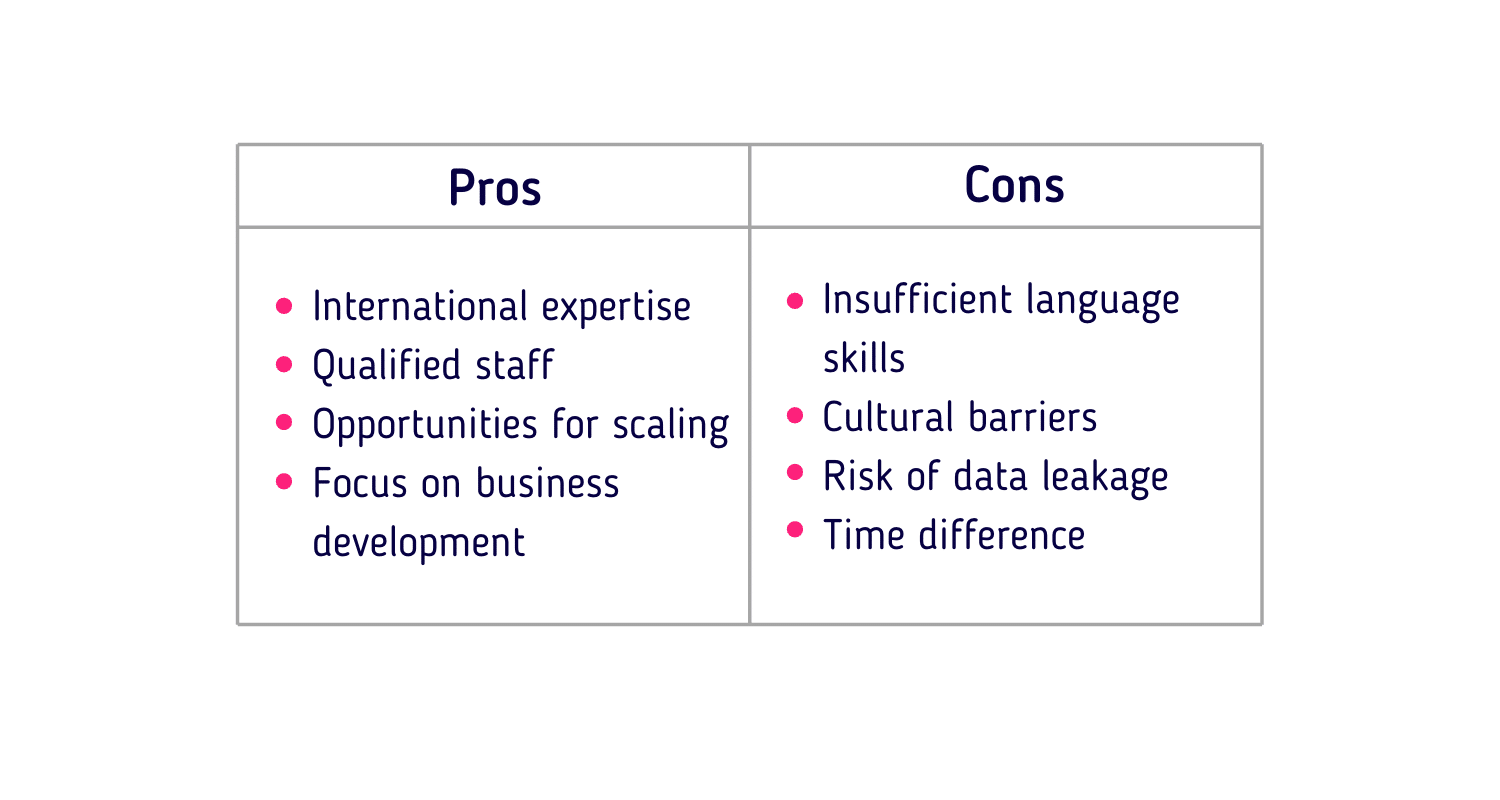 Advantages of Offshoring
Offshoring benefits businesses in a variety of ways. Below are the top reasons why it may turn out a great idea for your company.
International Expertise
Engaging human resources from foreign countries often turns out beneficial as far as companies gaining additional insights and international expertise. A fresh outlook on business issues by new employees can turn into a profit. This knowledge will be especially valuable if you are entering a local market.
Qualified Staff
By moving your business to a new country, you get access to new talents. This is especially the case with countries in Eastern Europe that are recognized offshoring leaders. Strong competition makes companies engage top talents. This means that by transferring your activities to such countries, you get employees with proven expertise.
Opportunities for Scaling
Higher flexibility of your business is an extra advantage you get with offshoring. The availability of human resources will make it easier for you to extend your activities and find new employees. In case you plan to expand, offshoring will provide you with more talent and less major obstacles in a relatively short time.
Focus on Business Development
When involving skilled specialists, you gain a chance to focus on the most essential tasks. By delegating a part of activities to foreign professionals, you'll free up some time and spend it on business development, creative problem solving, development of new features or IT products, and other questions that require your personal participation.
One of the successful offshoring examples is a US-based software product company People.ai which decided to assemble their professional R&D team in Eastern Europe. The process of hiring qualified engineers as a part of launching an offshore development center was fully delegated to Alcor. It took us one month to successfully set up an R&D office and hire over 25 talented IT specialists. Throughout our cooperation, People.ai maintained full control over their brand-new offshoring center, including property, software developers, and intellectual property rights.
Disadvantages of Offshoring
Offshoring offers companies numerous benefits and – once organized correctly – can prompt the growth of your business. Yet, it also has downsides.
Insufficient Language Skills
When shifting services to foreign countries, you may experience a lack of people with proper language skills in their region. This factor may significantly hinder understanding and decrease communication efficiency.
Lack of Technological Advancements
Delivering part of your operations abroad may slow down your business in case of choosing a country with insufficient technological capabilities. These include both poor infrastructure and shortage of developers with exceptional skills and/or special technology stack. That's why you should choose an offshore destination carefully.
Cultural Barriers
Cultural differences may weaken rapport and hinder effective cooperation. Involving employees with opposite values can result in difficulties with performance control or subordination. Thus, you may need to consider like-minded cultures with a similar work ethic.
Time Difference
Another pain point may be a significant time difference. Unless you've agreed that they must respond immediately, you could wait long to receive a response from your employees. Because of the time difference, some employees might also need to work night shifts.
Ukraine as an Offshoring Destination
Ukraine is widely recognized as a perfect spot for IT offshoring and often takes leading positions in related rankings. Below are the three reasons why IT companies choose to hire developers in Ukraine.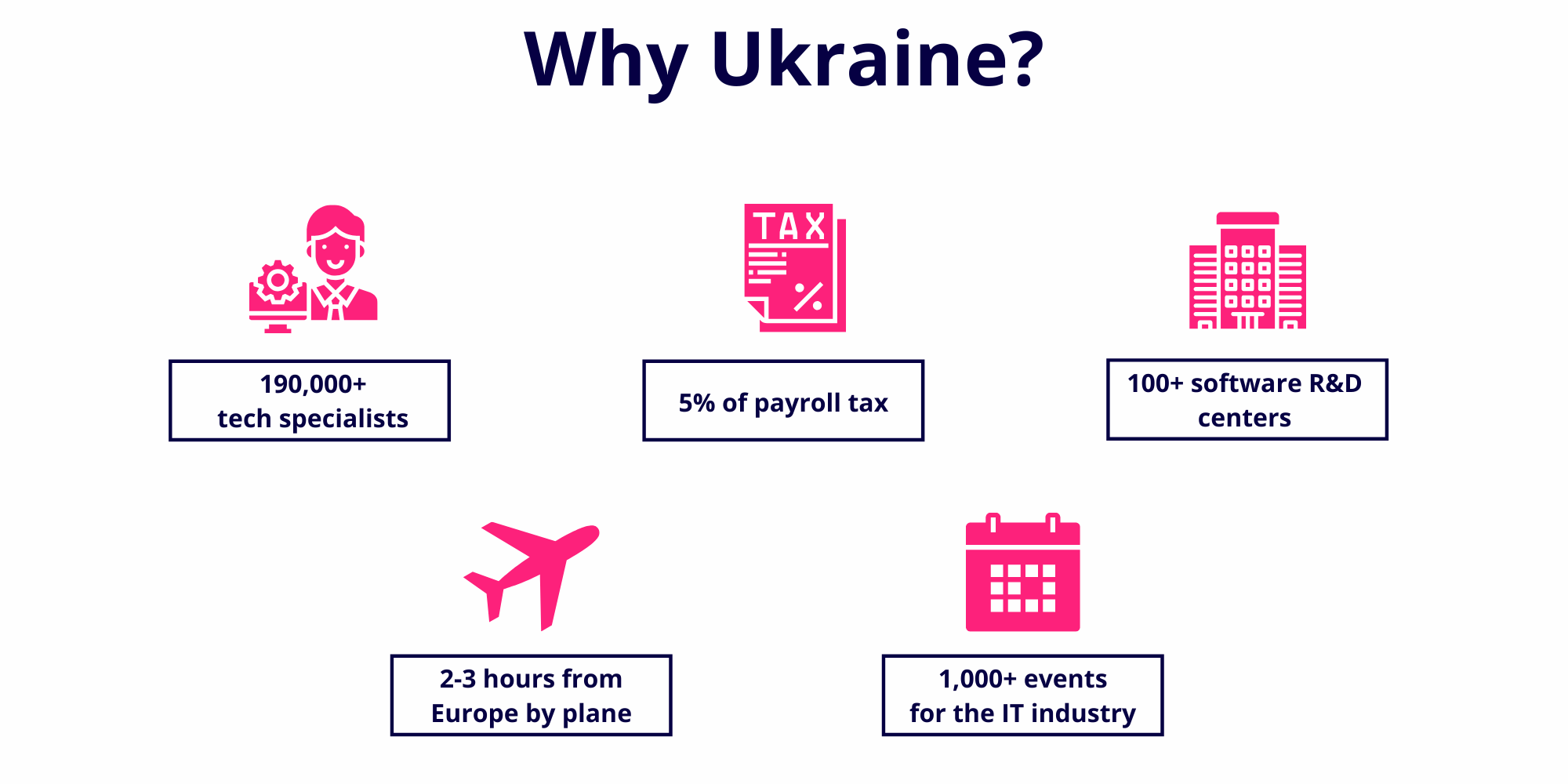 Skilled Software Developers
Ukraine hosts over 200 educational institutions preparing IT specialists. Annually, more than 16,000 graduates enter the market, thus tightening competition and prompting constant development of skills. Those who have already worked with Ukrainian software developers praise their expertise.
Working Knowledge of English
We've identified insufficient language skills as a barrier to effective communication. Still, this shouldn't be a headache with Ukrainian developers. 80% of local IT specialists know English at the Intermediate or Upper Levels. This means that you shouldn't experience misunderstandings if you offshore to Ukraine.
Price to Quality Ratio
Ukrainian rates and wages are several times lower than those in the US or Europe, yet the quality of service doesn't fall behind. Ukrainian specialists can also share useful advice if they see a better solution to save effort and money. Moreover, with intense competition, providing quality service is an essential condition for success. Consider cooperating with an IT BPO company in Ukraine to attract the best talents and cut business expenses.
In general, offshoring is a great idea for boosting your business without spending too much. But you should consider all the offshoring pros and cons before you decide. Identify what your company needs and seek out the best solution. Hopefully, this article has explained what offshoring is and how it can benefit your business. If you're interested in recruitment, legal, accounting services and want to open an R&D office in Ukraine, Alcor may be able to help. While we provide necessary support of your routine tasks and back-office assistance, you can fully enjoy the perks of the offshore business model and its cost-effective solutions.
Just stay focused on your product, we'll take care of everything else!