Sooner or later, many IT product companies step back from the traditional outsourced services and seek wiser methods to grow their business. At this point, choosing the right strategy of filling inner resource gaps and optimizing expenses might be a tough decision.
For instance, my colleague explained all the pros and cons of using an IT staffing agency. But I'll talk about staff augmentation vs managed services contrasts – to find out the differences between the two options and discover which one works best for your business. Stay tuned!
Staff Augmentation in Short
Staff augmentation is a BPO strategy aimed at filling temporary skill gaps by integrating external IT talents into your in-house team. In this sense, it is closely related to the term "IT outstaffing" because you engage remote developers who are officially employed by another company.
What Is Managed Services and How it Works
The Managed services model implies having a strategic partner with a wide area of responsibility. A provider covers all IT functions, gives consultations on various business matters, and takes care of many operational processes, including hiring, maintaining infrastructure, monitoring, and reporting.
People often confuse managed services and employer of record companies. To make it clear, an employer of record is an external organization that takes care of all the transactions concerning human resources, including payroll, tax calculation, and benefits. This service provider may also deal with other related complications and reduce your paperwork.
Staff Augmentation vs. Managed Services.
Comparing and Choosing
Staff Augmentation
IT companies tend to choose a staff augmentation model due to the lack of available human resources to cope with their projects. This type of BPO service provides clients with the required expertise and skillsets to meet their business goals. What is more, staff augmentation firms can easily find the developers your company is missing – or bid goodbye to them once the work is done. Because of that, executives can enjoy the flexibility of this model by scaling the team up or down whenever the need arises. Another vital point is that contrary to traditional outsourcing, the client company adjusts the capacity and retains control over staff selection. Therefore, by augmenting your staff you control the situation and receive more direct communication with the contractors.
As regards the risks of augmented staff, it's essential to mention the lack of dedication you receive from external employees. They don't have a sense of ownership over your product, thus might not care much about the future of your business. Moreover, the cost-effectiveness of such a model is challenged when looking at it from a long-term perspective. Staff augmentation works great for short projects, however implies additional costs in the case of continuous cooperation with a vendor. Therefore, you will be made to pay a service fee, commissions, or buy-out fee to keep the developers on board for a longer time.
Fortunately, we have an option that can combat the drawbacks and reinforce the benefits of the mentioned strategy. With your own R&D center, you don't have to worry about indifferent software developers because they work in core technical teams and root for the success of your product. Such dedication is solid ground for building professional and long-lasting relationships with your employees. Moreover, this model is famous for its budget-friendliness due to the absence of hidden costs.
Managed Services
Collaborating with a managed service provider assumes unique benefits. For instance, it gives you access to a broad range of skills and knowledge in compliance with the desired goals. Moreover, such a partner not only manages hardware or software but helps with the creation of a comprehensive business idea. This task is achieved through the means of close communication with a client and frequent consultations. Accordingly, this model is also considered to be a time-saving solution.
However, it has its disadvantages as well. The first and main risk of managed services is the reliability of a provider. Similar to outsourcing, it's easy to lose command over the transferred processes, including the most vital ones. Eventually, by delegating a great amount of control you should keep in mind that you are responsible for all the unpredictable outcomes. What is more, this solution isn't famous for budget-friendliness. Make no mistake, partnering with an MSP is quite expensive due to upfront investments and cloudy pricing, according to which all payments are merged into one category called "provider fee".
On the contrary, with your own R&D center, you receive a reliable partner who will serve you as a shelter and provide business navigation in the unfamiliar IT industry. At the same time, you maintain complete control over your office together with all intellectual property rights. The Alcor model also offers pricing transparency without any upfront investments or buy-out fees. Once all the routine tasks are managed by us, you can just focus on software development.
Managed Services vs. Staff Augmentation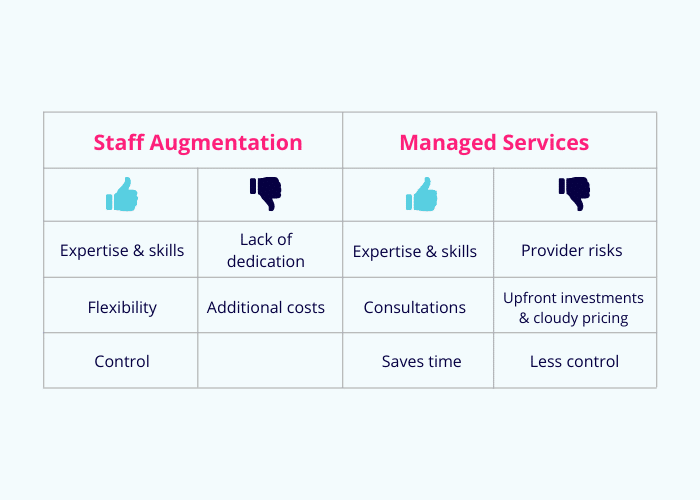 3 Questions How to Choose Between Staff Augmentation and Managed Services Models for Your Business
There's one more step after the brief comparison of available options. To help you make a final decision between staff augmentation vs managed services model, I prepared the top-3 useful questions for you to answer.
#1. Do you need project scalability or operational scalability?
Two models offer different scaling alternatives to meet diverse needs. On the one hand, staff augmentation satisfies the need for an extra pair of hands and works great for scaling specific projects. On the other hand,  a managed services model is a good option for scaling operations as your business grows. This solution helps companies to handle a bigger amount of work and still maintain efficiency.
#2. Are you looking for a short-term or long-term partnership?
From the previous distinction, it seems obvious that the span of relationships between client and vendor differs significantly between the models. Once the staff augmentation provider has hired an adequate number of software engineers for the project, the cooperation comes to an end. Contrary to that, businesses tend to rely on a managed services provider for a much longer period. This is due to the long-lasting process of growing business, giving consultations, and turning business ideas into reality.
#3. Which amount of control do you expect to maintain?
Another difference is related to the level of control the company has while working with a provider. In the case of staff augmentation, the client plays a vital role in managing the processes of hiring and onboarding. Executives keep full control of all aspects of the project and check the quality of the work being done. When it comes to managed services, the client company only describes tasks and details, but all management is done by the partner.
Is There a Better Option? Consider the Alcor Pro Turnkey Solution
As you can see, managed services and staff augmentation have common pain points and controversies. If you experience hardships choosing the model that works best for you, I advise you to consider the Alcor Turnkey Solution. Apart from the already discussed aspects, this model has other benefits which make it a life-saving option.
Legal Compliance
There are plenty of things a CEO should know before moving part of their business abroad. Legal compliance is probably the most crucial and complicated part of this process. However, there is no need to worry if you collaborate with Alcor. Our legal team will help you with tax planning and tax reduction to make both legal and profitable business in Ukraine possible for you. Alcor legal services also include handling employment agreements, contract reviews, negotiations with suppliers and landlords, protecting your intellectual property, providing visa, and M&A deals support. We may also assist you with the legalization of foreigners and obtaining work permits, as we did for Grammarly. Our full-cycle legal services ensure the successful operation of your R&D center in Ukraine.
Fast & Quality Recruitment
Our IT recruitment team consists of experienced researchers and recruiters who know how to hire brilliant offshore software developers for your tech business. They are ready to provide you with fast filling of positions and choose only the best technical experts from our large database of contacts. We are used to keeping our clients updated throughout all the stages of the hiring process, so you will be receiving weekly reports about processed CVs and conducted job interviews.
In addition to recruitment and legal support, you can receive real estate, financial and additional services. That's how you will get all back-office solutions in one place, just like People.ai did. They are a software product company based in the USA, which develops an innovative business tool for B2B sales with the help of machine learning technology. They decided to extend their engineering team in Ukraine and started to work with several service providers simultaneously, which led to confusion. In the end, the company reached out to Alcor as the all-in-one place to receive consultations and delegate all operational processes. We managed to set up an R&D center for People.ai in just one month and hunt over 25 IT talents. Today our client does their business in compliance with both local laws and those of the United States with no worries about operational management.
Final Thoughts
In a nutshell, there's no definite answer to the controversy of IT managed services vs. staff augmentation. These are models that satisfy diverse business requirements and differ in terms of scaling alternatives, duration of the partnership with a BPO company, and level of control.
If you are looking for a winning business solution, consider launching your own R&D center with full-cycle support from Alcor. That's a perfect opportunity to optimize expenses, get fast and quality recruitment, accounting, legal services, and outstanding office premises.