Every company desires to be highly profitable and successful. However, the business environment is far from a bed of roses, as it challenges the endurance of each company. Therefore, it's essential to try new strategies and practices not to be kicked out of the race. Such companies as Google, Samsung, BigCommerce, People.ai, and ThredUp have already opted for R&D outsourcing, incorporating proven practices to upscale their business. But how to choose the right practice and which of them would best benefit your company? In this article, I will dwell on these issues, helping you to make the right decision.
Software R&D Outsourcing: Is It a New Trend?
Ever since the world pandemic emerged, a lot of businesses have gone digital-only to survive these unpleasant times. This factor has boosted the need for software development, making the IT industry evolve exponentially. The new business trend has increased the need in IT outsourcing – a practice which allows companies to delegate certain tasks to a foreign vendor instead of using their in-house resources. There is no doubt that outsourcing software development has been popular for quite a while, as it offers some advantages for companies to grow. However, the business environment is never static, thus new models of expanding business capabilities arise.
Software R&D outsourcing is a method of establishing an offshore office, where you can have your own programming team working on the enhancement of your product. Yet in order to open your R&D center, you should cooperate with a local BPO company, delegating the necessary back-office operations for your offshore office to function properly. The R&D outsourcing approach provides foreign companies with numerous possibilities:
– Access to a wide pool of talented programmers;
– Reduction of expenses;
– Business upscaling;
– Entrance to new markets;
– Attraction of investors.
Since R&D outsourcing is a new trend in software development, a lot of companies have been missing an opportunity to experience its benefits, instead turning to familiar IT outsourcing strategies. However, outsourced software research and development has much more to offer than you can imagine. It enables tech companies to have their own branded office, which is 2-3 times cheaper than working via IT outsourcing providers who tend to overprice their services and use some fishy schemes to impose additional fees. The R&D center can provide product IT businesses with a team of dedicated programmers who would adapt to corporate culture; whereas with IT outsourcing it's only possible to get an outstaffed team of engineers who wouldn't take the assigned project as their number one priority.
By having their team of trustworthy and qualified developers, the risks of IP rights breaches would be diminished, but if working with an outstaffing team the IP would be transferred indirectly (leading to IP rights violations). And the icing on the cake: having an R&D center provides an opportunity to maintain a full control over the product development – while IT outsourcing practices usually don't presuppose any interference in project management.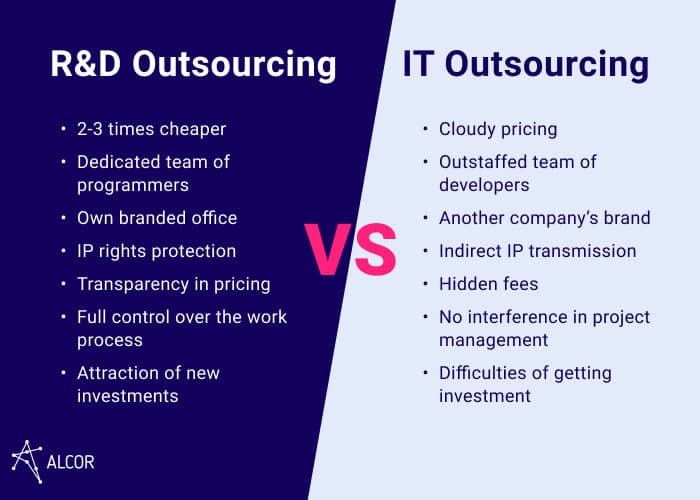 5 Top R&D Outsourcing Success Stories
R&D outsourcing is a valuable practice for any business improvement, as it involves researching the market and customer needs to develop new and ameliorated products and services. Moreover, businesses that use R&D outsourcing strategy have a higher chance to achieve a roaring success, as it provides them with unlimited possibilities. There are multiple examples of companies that reaped the benefits from R&D outsourcing.
Here are some of the eminent ones:
Google
The U.S. tech giant Google is one of those outstanding companies that greatly benefited from software R&D outsourcing to Ukraine. Google had already been acquainted with the Ukrainian market, as it established its first office in 2006. However, at one point the company directed its focus towards M&A deals, as it was a potent source of opportunities for business growth. That's why in 2019 Google purchased CloudSimple with its R&D office in Kyiv. CloudSimple is now a part of Google Cloud and improves its VMware migration solution. The acquisition of this company provided Google with 30 qualified specialists and an advancement in its technology stack (Golang, Kubernetes, Cassandra, Kafka, Java, Python), as well as enabled a large reduction of business expenses due to offshore hiring.
Samsung Electronics
The South Korean tech giant Samsung is another vivid example of a company which enjoys the advantages of outsourced software R&D services. Knowing about the high potential of Ukrainian IT engineers, the Korean company established its R&D office in Kyiv in 2009, which became one of the largest Samsung offshore centers in Europe. Samsung R&D Institute Ukraine is an advanced technology center which focuses on the development of AI, data intelligence, information security, next-generation communications, visual technologies (AR/VR), and hardware design to maintain the high-quality of its products. R&D outsourcing enables the Korean company to carry out unprecedented research in technology development, which largely benefits its products' competitiveness on the market. After getting incredible results, Samsung decided to open an additional tech R&D facility in Kharkiv, bringing its estimated IT staff to over a thousand and enhancing its business capabilities.
BigCommerce
Another company which has been reaping the benefits from software R&D outsourcing is BigCommerce – an all-in-one product e-commerce business. The company wanted to expand its business but faced the shortage of skilled IT engineers in the USA. Their cooperation with international outsourcing companies appeared to be non-productive. Therefore, BigCommerce turned to software research and development outsourcing which allowed them to incorporate cost-effective solutions in team enlargement and product development. By receiving offshore development services from a local BPO company, BigCommerce was able to settle in their new office within just a month and hire a dedicated team of 30 developers in a half year period. As a result they raised $219 million in funding from the IPO last year which immensely expanded their business horizons.
People.ai
People.ai is a platform for B2B sales acceleration based on machine learning technologies. This is a prominent example of a successful Ukrainian-American startup which was able to become a unicorn with total value of $1.1 billion and $100 million in investments. Such high results were attained due to a smart move to cooperate with an offshore BPO recruitment agency which hired a software research and development team for them.
The company decided to choose R&D outsourcing because of the negative experience with several IT outsourcing providers. People.ai established its own R&D center in Ukraine in partnership with a local BPO firm. Within just a month the company was able to hire developers in Ukraine, get a comfortable office, and receive coverage of all accounting and legal-related issues. By having their own software R&D team, People.ai was able to enhance their AI algorithms development, making their product one of the best on the market.
ThredUP
The largest online resale platform of second-hand clothing ThredUP was looking for ways to speed up its growth. The company considered opening a software R&D center in Ukraine because this destination is well-known for its great pool of talented IT specialists and promising opportunities for business enlargement. To open their offshore development center successfully, they decided to collaborate with a local BPO company which covered all the back-office operations. ThredUP also needed some rare tech specialists (ML specialist, Java developer, .Net Warehouse developer), and the local agency helped them to hire these developers in Ukraine in just a month. All 3 engineers were praised with stock options after several years of collaboration. Having an offshore team of developers provided ThredUP with a possibility to expand its business capabilities and raise $168 million in funding from the IPO this year, becoming the world's largest consignment store.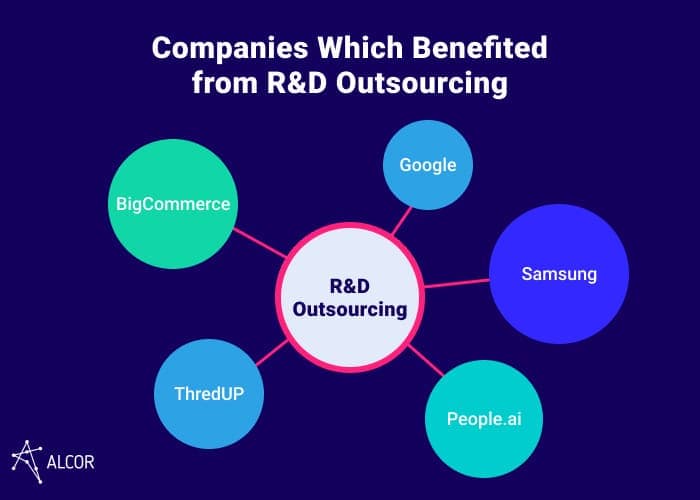 How Did They Succeed? R&D Outsourcing Best Practices
When it comes to offshoring tech business, it's essential to thoroughly consider all the pivotal aspects of this process. Every tech company which chose software R&D outsourcing elaborated a decent strategy based on a useful to-do-list placed below. So, let's have a look at each component to get a better understanding of how to devise your own R&D outsourcing strategy.
1. Identify If R&D Outsourcing Is Suitable for Your Business
Software R&D outsourcing is a perfect option for product companies who have evolving large projects. By having an offshore team of IT professionals, companies can accelerate the development of their product and at the same time make this process more efficient and time-saving. R&D outsourcing may be a good variant for startups as well if they have sufficient investments (Series C funding round and higher).
2. Devise a Plan & Set Your Budget
If you decide to choose R&D outsourcing, you should prepare a project plan and budget. Before establishing your own software R&D center, identify those functions which you'd like your offshore team of programmers to perform. Then you can set your budget to include developers' monthly salaries, office rent, provider & recruiting fees, and additional spending on employer brand development.
3. Find a Perfect Destination for Your Future R&D Center
Another vital aspect which should be considered when selecting R&D outsourcing is finding the perfect destination for your future offshore office. If you are interested in getting access to a huge pool of talented programmers, cutting expenses, and paying low taxes, then your ideal match is Ukraine. This country offers over 250K talented developers and low taxes (5%). Ukraine has already gotten world recognition as one of the best offshore software development destinations in Europe.
4. Choose a Trustworthy BPO Company
It's crucial for you to spend extra time selecting the most reliable service provider, as your success will depend on its performance. In order to cooperate with the best offshore vendor, make sure that this company has complete transparency in pricing, substantial expertise in IT field, and a professional team of recruiters who can effectively hire top programmers for you. Another aspect to consider is service provider guarantees, which may include free substitution of a candidate, recruiting a pre-set number of developers within a particular period, hiring programmers at no charge if missing deadlines, and providing compensation for fines. The availability of these guarantees indicates the trustworthiness of an offshore vendor.
5. Delegate All the Back-Office Operations
By having your own R&D center, you will be able to enjoy the BPO services provided by a local company, which takes over the recruitment of engineers, finding a place for your future team, dealing with accounting and legal issues, while not interfering in the software development. You can also maintain full control over the work process at your R&D office by getting regular reports and holding meetings with BPO company representatives.
6. Concentrate on Product Development
If you decide to open your R&D center, you will have 100% access to your offshore team of programmers, delegating required functions, establishing deadlines and KPIs, communicating directly without any third party's interference, and making decisions concerning your staff. And most importantly, you will be able to peacefully focus on your software elaboration, since all the operational services will be covered by a local BPO company.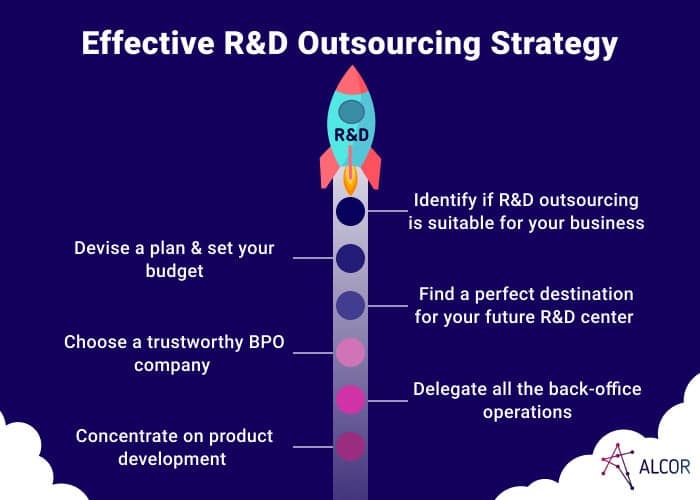 Establish Your Own Software R&D Center in Ukraine
R&D outsourcing can't be done without its key component – offshoring destination. There are dozens of appropriate locations for opening your R&D center; however, choosing Ukraine would be the smartest decision you've ever made. In terms of IT services, this country is growing immensely, attracting more and more foreign enterprises to offshore their business here. So, what makes Ukraine such a convenient destination for R&D outsourcing? First of all, there is a huge pool of talented Ukrainian programmers – this number has increased by 24.3% in 2021 reaching 252,068 IT specialists. Another vital aspect to consider is a convenient location. It's situated in the heart of Europe, which is very convenient for Western companies to open their R&D centers here. Low wages of developers ($3,000-$7,000 per month) and taxes (5%) are one more reason to choose Ukraine for software R&D outsourcing, as you can significantly cut your expenses, but at the same time receive high-quality work.
What does Alcor do?
Choosing a perfect destination for R&D outsourcing is intrinsically linked to finding a trustworthy BPO agency. Alcor is one of the few Ukrainian companies which provides a whole spectrum of services to help foreign companies open their offshore software development centers in Ukraine. We can assist you with hiring top IT engineers, finding a nice office, managing HR payroll and legal compliance for your offshore development team. As for additional services, we offer our clients business travel support, stock option planning, employer branding, and work permits for foreigners.
Here at Alcor, we care about our clients, that's why one of our main guarantees is that we vow to hire 5 developers in the first month, 20 in a 3-month period, and 100 within a year. And if we do not meet the deadlines, we will hire the rest at no charge to our client. We also can assure you that all the pricing is completely transparent. In addition to this, Alcor has proven expertise in the IT field. We work with such tech companies as Samsung, Huawei, Amadeus, Sitecore, SDL, Globality, Ledger and others.
Final Thoughts
Software R&D outsourcing is gradually driving out the unfavorable IT outsourcing, offering attractive possibilities for business expansion. There are a lot of successful examples of both seasoned tech companies and startups opting for R&D outsourcing, reaping the benefits of such a process by getting access to a wide pool of gifted programmers, cutting expenses, entering new markets, getting more investment, and enhancing their business capabilities. However, before selecting this very option, it's important to get an insight into this practice and decide whether it would be a perfect fit for your company. You can always check out R&D outsourcing best practices to get a better understanding of the R&D outsourcing approach. Then consider all the advantages of this approach and make a step towards your future windfall success by opening your own R&D center with Alcor.