While the unemployment rate for software engineers keeps within 2,3%, the demand for skilled IT specialists is higher than ever before. However, it's not that easy to hire qualified tech professionals nowadays, as some resources claim the number of programmers leaving their current jobs will not decline in the nearest future.
Therefore, is it just a far-fetched problem or a real concern? In this article, I am going to analyze how this rate has been fluctuating for the past 7 years and dwell upon the main factors that affect developer unemployment. I'll also offer an effective way out for American tech businesses — cooperation with Alcor, an experienced hiring company that provides IT recruitment in Poland and Romania.
State of Software Engineer Unemployment Rate in the US
As it is known, the United States has been the largest and most influential IT hub in the world. Its tech industry is one of the main drivers of the national economy. Over 5 years its contribution to the national GDP rose from shy of 6,5% to 10,5%. This upward trend can also be seen in the ICT market value, which constituted $1 trillion in 2016 (28% of the world market share) and reached an impressive $1.6 trillion last year (35% of the total). 
The rapid development of the US tech industry greatly depends on the IT workforce and its level of employment. The talent pool has been steadily growing: from 3.87 million devs in 2016 to 4,4 million in 2021. However, the number of unfilled tech jobs has been rising exponentially for the past 3 years, which is a fact of some employment problems in the country. 
Since 2016, the number of unfilled tech positions saw a drastic decrease by 4 times, dropping to 250,000 jobs in 2018. As a result, the software engineering unemployment rate also plunged, keeping within 1,8%. This positive dynamic was primarily boosted by the proliferation of the digital economy which provided more job opportunities for women and under-represented minorities. 
In 2019 the situation on the US IT market changed, as more and more businesses started to invest millions of dollars in innovation, raising demand for cloud computing, machine learning, and analytical reasoning specialists. However, the tech shortage of these rare experts made the situation harder to manage. As a result, the software development unemployment rate went slightly up to 1,9%. And year 2020 turned the world upside down with the COVID-19 pandemic which caused a long-lasting economic crisis. Since companies were forced to go online, it increased software adoption across industries, resulting in high demand for developers. One can say it was good news, as more seasoned software engineers expected job offers with attractive compensation packages. 
However, the miracle didn't happen, as programmers were instead flooded with a mounting workload, thus facing burnout and job dissatisfaction. Consequently, the unemployment rate among software engineers shot up to 3%, as the number of resignations increased by 4,5%. Looking at the unemployment rate (software development) by state, Georgia, Kentucky, and Idaho were at the top of the list, while Texas, Florida, and California outpaced all states in tech job gains. Wage stagnation amid growing cost of living, limited career opportunities, toxic work environments, and work-life imbalance were named by Harvard Business Review as the key factors causing what now is called the "Great Resignation." 
This is a massive employee exodus that started to take place in 2020 and continues to prevail today. According to the McKinsey report, 19 million US workers quit their jobs since April 2021, with the highest resignation rates being in the healthcare and tech industries. The number of job openings skyrocketed to 11.5 million, which is almost double the number in 2019. Even though the unemployment rate for software developers fell to 2,3% in 2022, experts predict about 42% of developers will leave their current full-time job. So, why is the tech employment situation not improving? 
Software Engineer Unemployment Rate Data

Year
Rate
Unfilled tech positions
2016
2,3%
843,000
2017
2,2%
627,000
2018
1,8%
250,000
2019
1,9%
700,000
2020
3,0%
918,000
2021
1,5%
500,000*
2022
2,3%
260,000*
                                                                                                                                                                                                              *Estimated number                                     
Software Engineer Unemployment Rate: Why Is It So Hard to Hire Programmers?
IT companies have been desperately trying to fill the mounting job positions. However, the existing tensions in the market as well as the upcoming global economic recession impacted by the pandemic aftereffects and looming war in Ukraine will only deteriorate the global tech employment situation. Let's have a look at the main factors that already hinder this process. 
1. Tech talent shortage
The tech skill gap is widening, and the demand for tech talent across the globe has become more urgent than ever. The US Labor Department estimates that the global shortage of software engineers may reach 85.2 million by 2030, meaning that companies risk losing $8.5 trillion in revenue if the situation continues to escalate. While the number of posted jobs nearly doubled last year, the amount of applicants decreased by 25% in the market. It's expected that the software engineer shortage in the USA will increase to almost 1,2 million by 2026, meaning there is a burning need in finding alternative ways for recruiting skilled programmers.
2. Biased CV screening
– Many talented programmers are often left behind because they don't have a degree in computer sciences, which is still a top requirement among IT companies. However, the dilemma is that universities aren't graduating enough tech specialists to satisfy the market needs. Therefore, it's time for IT executives to consider hiring graduates from coding boot camp programs, as they are just as good performers as university ones. 
– Another problem is credentials. It's common to believe that if an applicant has a name-brand employer on their CV, it's a 100% proof of their high skill. However, it's not always the case, as many talented developers tend to do coding for fun, gathering fellows in their own small teams to build cutting-edge products just like in the case of indie game developers. 
– One more aspect that is widespread nowadays is the search for a "particular" IT specialist. Many tech owners tend to narrow their candidate pool to such an extent that there is hardly anyone who can fit their unrealistic requirements. Witnessing the IT talent shortage, executives should start paying more attention to candidates' potential, as most developers can easily learn additional languages, frameworks, or tools if needed.
3. Protracted job interviews
Every tech executive wants to hire swiftly and effectively to avoid downtimes and financial losses. Therefore, it's become a common practice to conduct multiple job interviews to gather all valuable information about candidates to make the right choice. From an executive's perspective, it's a logical and wise move that can save them time & money and get the best employees. But for many software developers, it's a real turn-off. From 6 to 7 rounds – that's how the average tech interview looks nowadays. It resembles a marathon, don't you think? As a result, it takes about 66 days to find the right software engineer for an open position – which is $680 in lost revenue a day per vacancy. 
4. Uncompetitive salary & limited opportunities
The consequences of the Great Resignation have shown that devs reevaluated their own professional capabilities and opportunities that their place of work provided them with. Consequently, a lot of tech specialists resorted to quitting. Now, if looking at the software developer unemployment rate by age, the highest mark is registered among people who are in their 20s, as post-pandemic aftereffects influenced them the most. About 65% of developers are convinced they deserve a better pay, while 35% want more career growth or leadership opportunities. 
Software Engineers Demand & Supply in the USA and Eastern Europe
Even if all American IT graduates and jobless programmers were hired, it still wouldn't solve the employment problem in the USA, as the number of vacancies is only growing year by year. Today, there are almost 4 million IT jobs, while the Bureau of Labor Statistics predicts the US market to add 316,000 software developer jobs over the next 10 years (a 22% growth rate). Having only 4,4 million IT experts and 400,000 graduates per annum is not enough to satisfy the expanding needs of the American tech market. 
The demand-to-supply ratio is drastically different in Eastern European countries. For instance, in Poland, there are only 25,000 IT vacancies, while their talent pool accounts for 450,000 tech experts. Romania, which is the 3rd destination in Eastern Europe in terms of IT specialists, has about 10,000 open IT vacancies. A similar situation can be seen in Hungary and Ukraine as well.
| | | | | | |
| --- | --- | --- | --- | --- | --- |
| Country | Population  | Talent pool | Tech graduates per year | Number of IT jobs in 2022 | Average  developer salary |
| USA | 335 million | 4,4 million | 400,000 | 4 million | $110,000 |
| Poland | 38 million | 450,000 | 15,000 | 25,000 | $47,000 |
| Romania | 19 million | 143,000 | 7,000 | 10,000 | $40,000 |
| Hungary | 9,5 million | 82,000 | 4,000 | 8,000 | $43,000 |
| Ukraine | 43 million | 228,000 | 20,000 | 3,000 | $45,000 |
Sources: BLS data, Glassdoor, LinkedIn, No Fluff Jobs           
Unemployment Rate for Software Engineers: How American IT Companies Can Overcome Tech Shortage
To accelerate the hiring process and at the same time bypass existing tech shortages, American tech companies should opt for IT staffing & recruitment services in Eastern Europe — an ideal offshoring destination.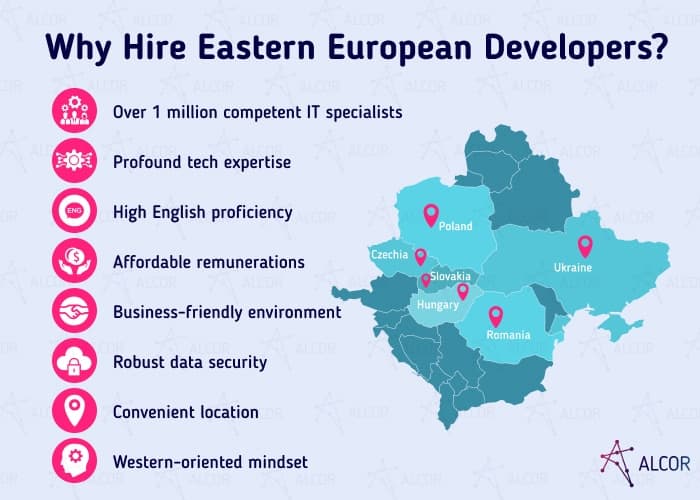 Once you decide to hire software developers in this region, you will need to offer good working conditions. My advice is to take into account the following aspects:
Set competitive salaries & attractive EVP. To hire and retain well-versed software developers in your offshore team, you need to offer decent annual pay in combination with an appealing employee value proposition. To do that in the best way possible, you need to scrutinize the local market. But if you collaborate with a competent IT recruitment partner, they will liberate you from this arduous task.
Create professional development opportunities. Statistics show that about 41% of developers are prone to leaving their job because of the limited career progression, while 9 in 10 would like to get more learning and development opportunities from their company. Thus, when hiring software engineers, think of ways you can broaden their tech expertise. It could be coding courses, training, engagement in new projects, knowledge exchange webinars, etc. And don't forget to praise your remote team, so they feel a valuable part of the company.
Optimize the workflow & offer flexibility. Managing an offshore team of developers may seem challenging; however, if you set up a decent workflow, have regular calls, utilize the right management tools, and sustain team cohesion, your remote team will feel just like an in-house one. Another piece of advice is to respect your programmers' work-life balance, refraining from making them work extra hours.
Entering a new market is not a walk in the park. Therefore, consider partnering with an experienced IT recruitment company in Eastern Europe that will navigate you through the local market.
Consider Alcor BPO Your Trusted Partner
That's what Sift did — an American IT product company that develops AI-based online fraud detection and management solutions. They saw tech talent shortage as a burning issue that could become a substantial obstacle on their way to product elaboration and successful expansion. Therefore, they decided to seek an alternative and as a result opted for an engineering team in Eastern Europe. The company had an ambitious plan to hire 100 talented developers, yet knew no recruiters who would be knowledgeable about this market. That's why Sift reached out to Alcor BPO. Within just 1 year we hired 30+ programmers for them! Want to know how?
Alcor assigned 10 IT researchers who worked on the vacancies, candidates sourcing, and EVP compilation, while our 3 tech recruiters conducted job interviews and CV screening. In addition to that, our IT recruiters carried out an executive search to headhunt Front End Developer and Back End Engineer with a rare tech stack. To liberate Sift from any arising issues, we also provided them with an experienced account manager, who assisted them throughout our fruitful cooperation.
If you are interested in experiencing swift and effective hiring of developers just like Sift, People.ai, Dotmatics, and ThredUP, consider partnering with Alcor! We provide IT recruitment in Romania, Poland, and other Eastern European countries by headhunting senior and lead programmers for IT product companies. Our internal database consists of over 200,000 verified candidates, allowing us to get to 1 accepted offer just in 8 CVs. Moreover, 98,6% of our candidates successfully pass their probation period!