IT outsourcing is one of the ways to reach talented software developers and save costs. In pursuit of this, western technology companies have been considering delegating software development to countries in Eastern Europe. And lately, tech entrepreneurs have discovered IT outsourcing in Poland, which attracts more and more international businesses. Therefore, now Poland is the 3rd country in the world in terms of foreign investments. But what makes this destination stand out from the rest?  
As an experienced provider of IT recruitment services in Poland, Alcor knows the answer to this question. So, in this article, I'll explain why this region is so appealing for outsourcing, compare it to other countries, and share the best solution to get software development in Poland.
IT Outsourcing to Poland: Key Facts
First of all, there are plenty of factors that make this country one of the leading destinations for IT outsourcing and offshoring. I'll focus on the ones which play a crucial role for product tech companies: 

IT market size
The IT industry in Poland is highly developed – it composes 8% of the country's GDP while its revenue was estimated at 8.8 billion euros in 2021. One-third of all services that Poland provides to the US are IT services and approximately 70% of Polish tech specialists are employed by global IT companies. At the same time, the blooming ecosystem is not only enterprise-friendly but has the largest number of startup 'unicorns' in the CEE. Some of them are Wirtualna Polska, Allegro, LiveChat, and others that have already become international brands. 
Talent pool
Tech product companies also go for IT outsourcing services in Poland because of the largest number of software developers in the CEE region – over 400,000. This number has become even bigger in recent months due to the war in Ukraine. After the 24th of  February 2022, more than 20,000 tech specialists relocated from Ukraine to Poland, contributing to the Polish IT talent pool.
Skills
Polish developers are ranked 9th in the world in terms of their software competencies, according to a 2019 report by Coursera. When it comes to the most popular programming languages, SQL and JavaScript are the leaders, followed by HTLM/CSS and Python. Statistics also reveal that this year there's a strong interest in cloud solutions among admins and DevOps (63%) while in 2021 dedicated servers were more popular.
Costs
While speaking about software development outsourcing to Poland, it's important to mention local costs and taxes. For instance, the annual senior full-stack software engineer salary in Poland is $74,500, while in the United States the same specialist costs companies $160,000 per year. This difference is caused not only by the lower cost of living but also by the taxation system. It's generally acknowledged that tax rates in Poland are lower in comparison to the US or other countries in the EU. A lot of foreign companies work with Polish developers on B2B agreements, according to which a programmer becomes self-employed and provides services to an IT company. The flat tax is 19% while the lump sum tax scale is 17/32%. This approach is both beneficial and easier in terms of documentation and payments.  
Education level
The ICT education sector is well-developed in Poland and attracts even foreign students. There are over 400 higher educational institutions around the country and more than 60 of them are tech universities. Information technology is one of the most popular fields to study, so over 65,000 applicants chose it last year. The most popular universities are the Warsaw University of Technology, the Poznan University of Technology, the Wrocław University of Science and Technology, and the Lodz University of Technology. Some of them are included on the QS World University Rankings list. Nonformal education is also popular in Poland, so people with no prior experience in coding can get some basic IT knowledge. Some of the well-known coding schools and bootcamps are Coders Lab, Codecool, CodeBrainers. 
Polish programmers also have a good command of the English language. According to the EF English Proficiency Index, Poland ranked 16th among all countries and 14th among European countries. Thus, strong language skills enable building an open relationship with Polish software developers, so that there are less misunderstandings or difficulties in communication.
Data security
Another fact that encourages foreign companies to outsource or offshore IT in Poland is data protection. This includes copyright laws, non-disclosure agreements, and other policies. As a member of the European Union, Poland is governed by the General Data Protection Regulation (GDPR), which means that all companies must follow its requirements for collecting, storing, and managing data. GDPR compliance has a number of benefits like easier business process automation, protected brand reputation, and a high level of trust and credibility.
Location & time zone
On average, it takes up to 2 hours to fly from any European country to Poland, and there's a slight or no time difference between them. For US-based companies, the time difference is more significant, but it enables working on a round-the-clock basis. Thus, the development process never stops which also makes IT outsourcing to Poland appealing.
Big-name tech companies
Last but not least, the presence of big global western companies greatly contributes to choosing outsourced software development in Poland. Approximately 60,000 technology businesses (both international and Polish) have already opened their offices in big IT hubs like Warsaw, Krakow, Wroclaw, Poznan, Lodz, and Tri-city (Gdańsk, Gdynia, and Sopot). In Warsaw, for example, there are R&D centers of Samsung and Google, while IBM and Nokia have offices in Wroclaw. In May 2020, Microsoft announced an investment of $1 billion to accelerate the growth and innovation of "Polish Digital Valley".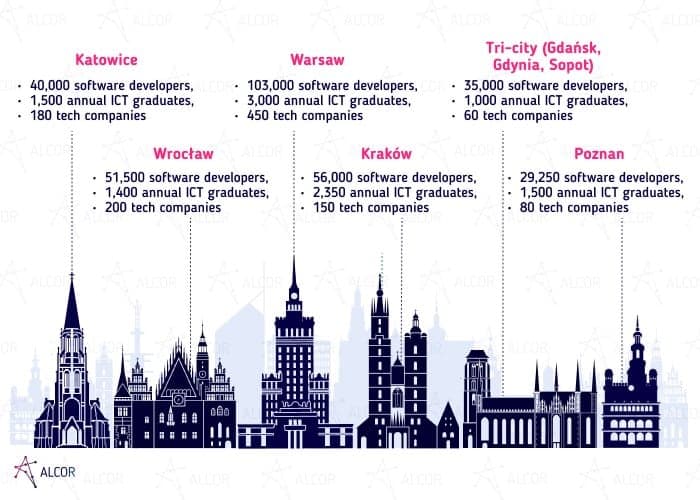 IT Outsourcing to Poland: Risks and Limitations
But despite the variety of appealing facts to outsource IT services to Poland, potential risks and challenges should not be omitted: 
Underqualified outsourced developers
While going for software outsourcing in another country, there's the risk that a local outsourcing company can assign an underqualified developer to perform the tasks that require more expertise. For example, a junior developer might get appointed to perform mid-level tasks, while middle programmers sometimes work on a project that requires a senior coder's competencies. Such unreliable outsourcing partners are not interested in the client's product development and success, instead trying to gouge them for more money.    
Process orientation
Outsourcing providers follow a project-centric mindset in software development and focus on executing the tasks in accordance with the plan and deadlines, but not always on final results. In this case, the product may have poor functionality and plenty of gaps which can negatively impact its image on the market.  
Lack of control 
While working with external tech outsourcing agencies, you won't have full control over task execution, performance, and the overall development process. Moreover, it's almost impossible to evaluate the quality of programming at every development stage. 
Hidden costs
Traditional IT outsourcing is not always about reduced costs. Some companies can bill their clients with unnecessary services like management and coordination, warranties, and maintenance, etc. Eventually, it might appear that the final invoice includes services that were never requested by the client.  
Poor software team motivation
Software developers at tech outsourcing agencies usually work with different product IT companies. That's why they don't really care about the long-term value of their work and just aim at finishing the project. A software team compiled with indifferent programmers is interested neither in your company's and product's success nor in your corporate values and goals. That's why they probably won't be motivated enough to go the extra mile and do their best for your company.   
IT Outsourcing in Poland vs. Other Countries
Poland vs. North American countries
The USA and Canada are the leading Northern American countries when it comes to IT. Just like Poland, they have highly-skilled coders and a well-developed tech infrastructure. But a significant difference appears when it comes to programmers' remuneration rates and tax systems. As it was described above, twice smaller wages and lower taxes make Poland a much more beneficial and cost-effective country for recruiting talents remotely.  
Mexico, on the other hand, is a popular software outsourcing/offshoring destination in North America that doesn't have the above-mentioned disadvantages. However, getting software engineering services there could be challenging due to the high level of bureaucracy. You'll likely spend a lot of time and money to comply your business with Mexican legislation and handle all the important documentation on time without a reliable partner. 
Poland vs. South American countries
Another popular region is Southern American countries like Argentina and Brazil that are known for low compensation rates for software development. However, according to the 2022 Index of Economic Freedom, Brazil is placed 133rd, while Argentina ranks 144th  in terms of business freedom, investment freedom, and property rights. At the same time, Poland ranked 39th which means that this country is more open to investments and running the business. When it comes to data security, Brazil follows the General Data Protection Law (LGPD in Portuguese) that was designed to unify 40 existing laws to regulate data processing. Even though LGPD resembles the GDPR, this regulation lacks the appropriate technologies, data governance mechanisms, and means to enable data subjects to process personal data.
Poland vs. Asian countries
The most well-known countries in Asia for outsourcing development services are India and China. Both boast a solid number of software developers – almost 10 million altogether. Nevertheless, while comparing them to Poland, India and China rank lower regarding English proficiency. India is 48th, when China is placed 49th in the EF EPI list. Sub-par language skills make things get lost in translation and can even slow down the development process due to the language barrier. Another unpleasant factor for India is underqualified engineers. It was reported that 4 out of 5 Indian software developers are not employed since only 3% of them have relevant tech skills. At the same time, China appears to have weak intellectual property rights protection since the Chinese government used to require western software companies to trade their technologies for internal market access. In case a company refuses to do so and chooses to enforce their IP rights in China, it'd be difficult to obtain evidence and overcome bias against foreign investors.
Consider Alcor BPO Your Trusted IT Recruitment Provider 
Have a look at Dotmatics, a US-based tech company that develops digital products for scientists and has offices in the US, New Zealand, and Ireland. After considering all the pros & cons, Dotmatics decided to step back from traditional IT outsourcing and develop their software products without third parties. They chose Eastern Europe as their go-to destination and reached out to Alcor as a reliable partner to hire an expert software engineering team. To find perfect-fit software developers, our tech recruitment professionals used internal databases, premium HR resources, and social networks. After this, together with Dotmatic's hiring manager we conducted interviews with the best candidates and the client made the final decision. As a result, Dotmatics got its own team of 30 dedicated programmers within a year! The closed positions included the Director of Engineering, Full–Stack Programmer, QA Automation Engineer, and others. Some of them were closed from the first candidate!  
Alcor is an IT recruitment services provider that helps product tech companies hire Polish programmers and developers from Romania. Compared to traditional IT outsourcing or outstaffing providers, we will help you hire your own software team and retain full control over the development of your software. Alcor's team of 40+ recruiters has high expertise in hiring Senior/Lead developers, even with rare programming skills. Thus, 98,6% of all our candidates pass the probation period with flying colors in the client company. 
Sift, Ledger, and others already work with their own remote teams in the east of Europe! Interested in building your own development team with Alcor?