Venturing into IT outsourcing proves to be a strategic approach for western tech companies, allowing them to tap into a pool of talented software developers while optimizing costs. Among the options in the Eastern European region, IT outsourcing in Poland shines as a top choice, especially since the country secures the 7th position in Europe's most powerful IT markets and ranks 3rd for competitiveness. However, what else sets Poland apart from the rest?  
As a seasoned provider of IT recruitment services in Poland, Alcor holds the key to this question. In this article, we unravel the compelling reasons that make Poland an appealing outsourcing destination, comparing it with other countries and presenting the optimal solution for acquiring top-notch software development services in this thriving region. Get ready to explore the unparalleled advantages Poland has to offer!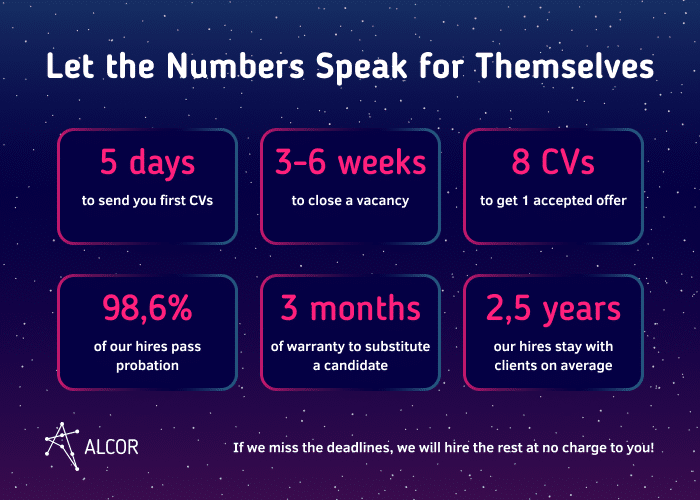 IT Outsourcing to Poland: Key Facts
To begin with, there are plenty of factors that make this country a prominent haven for IT outsourcing and IT offshoring to Poland. I'll focus on the the pivotal ones that especially captivate product tech companies:

IT market size
The IT industry in Poland has soared to incredible heights, constituting a significant 8% of the country's GDP. In 2021 alone, Polish IT exports reached an astonishing 10 billion euros and the trajectory indicates a projected increase to 13 billion euros by 2026. The revenue of IT outsourcing to Poland alone is estimated to be around $2,5 billion in 2023. One-third of all services that Poland provides to the US are IT services and approximately 70% of Polish tech specialists are employed by global IT companies. This thriving landscape stands as a testament to the country's dedication to technological excellence, making it a force to be reckoned for tech companies considering IT outsourcing and offshoring to Poland.
Startup ecosystem
The blossoming IT industry in Poland embraces both enterprises and startups, boasting the highest number of startup 'unicorns' in the CEE, including Allegro, The Witcher, Brainly, DocPlanner, This War of Mine, LiveChat and many others. Polish startups scaled remarkable heights, attracting a staggering 448 million euros in funding in just the first half of 2022. Leading the charge, top Polish cities like Warsaw, Wroclaw, Krakow, Poznan, and Gdansk emerge as vibrant hubs for startup development, igniting a fire of innovation that shows no signs of slowing down. 
Talent pool
Tech product companies also go for IT outsourcing services in Poland, thanks to its vast talent pool of 607,000 software developers and 20,000 IT graduates joining the local workforce every year, making it the CEE region's unrivaled leader. With over half of them being skilled programmers, Poland's prowess is recognized in the esteemed report Emerging Europe. 
Skills
Polish developers proudly claim the 9th spot in global rankings for their exceptional competencies, as revealed by a Coursera report. At the heart of their expertise lie the popular programming languages Java and JavaScript, closely followed by Python and TypeScript, solidifying their position as tech frontrunners. Embracing the future, a strong surge of interest in cloud solutions among administrators and devops professionals reached a remarkable 63% in 2022, showcasing Poland's keen adoption of cutting-edge technologies.
Costs
While speaking about software development outsourcing to Poland, it's important to mention local costs and taxes. For instance, an annual senior full-stack software engineer salary in Poland is $73,250, while in the United States the same specialist costs companies $152,500 per year. This difference is caused not only by the lower cost of living but also the taxation system. 
It's generally acknowledged that tax rates in Poland are lower in comparison to the US or other countries in the EU. Corporate Income Tax is 19% (standard) but startups and small business that meet certain criteria pay 9% of CIT. A lot of foreign companies work with Polish developers on B2B agreements, according to which a programmer becomes self-employed and provides services to an IT company. The Personal Income Tax imposed on B2B contractors is 19% (flat) or 8,5/12% (lump). Social contributions are also paid by Polish coders on their own working under the B2B model and the amount varies, depending on annual revenue. This approach is both beneficial and easier in terms of documentation and payments.   
Education level
The country shines as a beacon of talent competitiveness and exceptional tech education, fostering a thriving ecosystem of over 60 state and public higher education institutions dedicated to technology. Information technology is one of the most popular fields to study, so over 65,000 applicants chose it last year. The most popular universities are the Warsaw University of Technology, the Poznan University of Technology, the Wrocław University of Science and Technology, and the Lodz University of Technology. This commitment to excellence is further validated by 22 Polish establishments securing spots in the prestigious QS World University Ranking 2024. Non–formal education is also popular in Poland, so people with no prior experience in coding can get some basic IT knowledge. Some of the well-known coding schools and bootcamps are Coders Lab, Codecool, and CodeBrainers.  
English proficiency
Polish programmers showcase a good command of English, securing 13th position globally and the 11th spot in Europe in the EF English Proficiency Index, even surpassing their previous year's results. This fosters an open and seamless relationship of Polish software developers with Western colleagues, minimizing misunderstandings and communication hurdles. Embracing a shared language, collaborations flourish, enabling a more effective and productive partnership between businesses and the talented programmers of Poland. 

Data security
Among the many reasons why foreign companies are outsourcing or offshoring their IT in Poland, data protection stands tall. Embracing robust copyright laws, stringent non-disclosure agreements, and other policies, Poland ensures a secure environment for sensitive information. As a proud member of the European Union, the country adheres to the General Data Protection Regulation (GDPR), imposing strict guidelines for data collection, storage, and management. GDPR compliance not only streamlines business processes through automation but also safeguards brand reputation and fosters a high level of trust and credibility, further solidifying Poland's allure as a premier IT outsourcing destination.
Location & time zone
Poland's strategic geographic location fosters seamless connectivity, with an average flight duration of only 2+ hours from any European country. Furthermore, the minimum time difference between Poland and its European counterparts ensures efficient communication and collaboration. For US-based companies, the time difference presents a more significant gap, but this very aspect becomes a key advantage, enabling round-the-clock operations and continuous development. With the development process never hitting a pause, IT outsourcing to Poland becomes even more enticing, offering an uninterrupted flow of progress and productivity for businesses across the globe.
Big-name tech companies
The allure for outsourced software development in Poland is heightened by the impressive presence of major global western companies. The country boasts around 60,000 technology businesses, both international and Polish, with offices established in prominent IT hubs like Warsaw, Krakow, Wroclaw, Poznan, Lodz, and the Tri-city area (Gdańsk, Gdynia, and Sopot). In the heart of Warsaw, R&D centers of tech giants like Samsung and Google flourish, while Wroclaw hosts offices of IBM and Nokia, showcasing the immense trust and confidence placed in Poland's thriving IT landscape by these esteemed international companies.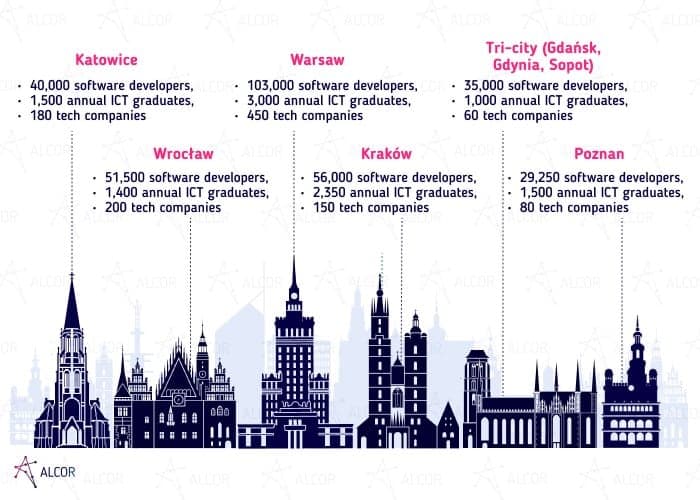 IT Outsourcing to Poland: Risks and Limitations
Still, despite the variety of appealing facts to outsource IT services to Poland, potential risks and challenges should not be omitted:  
Underqualified outsourced developers
While going for software outsourcing in another country, there's the risk that a local outsourcing company can assign an under–qualified developer to perform the tasks that require more expertise. For example, a junior developer might get appointed to perform mid-level tasks, while middle programmers sometimes work on a project that requires a senior coder's competencies. Such unreliable outsourcing partners are not interested in the client's product development and success, instead trying to gouge them for more money.  
Process orientation
Outsourcing providers follow a project-centric mindset in software development and focus on executing the tasks in accordance with the plan and deadlines, but not always on final results. In this case, the product may have poor functionality and plenty of gaps which can negatively impact its image on the market. 
Lack of control 
While working with external tech outsourcing agencies in Poland, you won't have full control over task execution, performance, and the overall development process. Moreover, it's almost impossible to evaluate the quality of programming at every development stage.  
Hidden costs
Traditional IT outsourcing is not always about reduced costs. Some companies can bill their clients with unnecessary services like management and coordination, warranties, and maintenance, etc. Eventually, it might appear that the final invoice includes services that were never requested by the client. 
Poor software team motivation
Software developers at tech outsourcing agencies usually work with different product IT companies. That's why they don't really care about the long-term value of their work and just aim at finishing the project. A software team compiled with indifferent programmers is neither interested in your company's and product's success nor your corporate values and goals. That's why they probably won't be motivated enough to go the extra mile and do their best for your company.  
IT Outsourcing in Poland vs. Other Countries
Poland vs. North American countries
The USA and Canada are the leading Northern American countries when it comes to IT. Just like Poland, they have highly-skilled coders and a well-developed tech infrastructure. But a significant difference appears when it comes to programmers' remuneration rates and tax systems. As was described above, twice smaller wages and lower taxes make Poland a much more beneficial and cost-effective country for outsourcing.   
Mexico, on the other hand, is a popular software outsourcing/offshoring destination in North America that doesn't have the above-mentioned disadvantages. However, getting software engineering services there could be challenging due to the high level of bureaucracy. You'll likely spend a lot of time and money to comply your business with Mexican legislation and handle all the important documentation on time without a reliable partner. Therefore, cooperation with a trustworthy and experienced local IT recruitment & R&D provider might come in handy. 
Poland vs. South American countries
Another popular region is Southern American countries like Argentina and Brazil that are known for low compensation rates for software development. However, according to the 2022 Index of Economic Freedom, Brazil is placed 133rd, while Argentina ranks 144th  in terms of business freedom, investment freedom, and property rights. At the same time, Poland ranked 39th which means that this country is more open to investments and running the business. When it comes to data security, Brazil follows the General Data Protection Law (LGPD in Portuguese) which was designed to unify 40 existing laws to regulate data processing. Even though LGPD resembles the GDPR, this regulation lacks the appropriate technologies, data governance mechanisms, and means to enable data subjects to process personal data.   
Poland vs. Asian countries
The most well-known countries in Asia for outsourcing development services are India and China. Both boast a solid number of software developers – almost 10 million altogether. Nevertheless, while comparing them to Poland, India and China rank lower regarding English proficiency. India is 52nd while China is placed 31st in the EF EPI 2022 list. Sub-par language skills make things get lost in translation and can even slow down the development process due to the language barrier. Another unpleasant factor for India is underqualified engineers. It was reported that 4 out of 5 Indian software developers are not employed since only 3% of them have relevant tech skills. At the same time, China appears to have weak intellectual property rights protection since the Chinese government used to require western software companies to trade their technologies for internal market access. In case a company refuses to do so and chooses to enforce their IP rights in China, it'd be difficult to obtain evidence and overcome the bias against foreign investors.  
Are There IT Outstaffing Services in Poland?
Sure, there are over a hundred firms in Poland that offer IT outstaffing services, namely staff augmentation according to Clutch. Others deliver similar services but may position themselves as IT outsourcing agencies. Such providers allow their clients to temporarily hire their software engineers or other IT specialists to perform certain functions. So, the IT outstaffing model is perceived as cost- and time-efficient by some tech companies and is quite a suitable solution for businesses that have in-house development teams yet are willing to elevate them with fresh skills and expertise.
However, there's a twist. Outstaffed programmers remain the official employees of the IT outstaffing vendor in Poland and report to them rather than the client. This often creates confusion in the management of such software developers from the client's side and leads to communication issues. Moreover, outstaffed programmers take a huge part in developing and improving the product and, thus, become valuable assets to the client company. The plot thickens when they leave the team once this cooperation has ended, so the client risks losing part of unique internal expertise contributed by these coders. To avoid that, some companies decide to buy programmers out from the vendor but are usually faced with huge fees, which becomes a stumbling block.
Alternatives to Polish Outsourcing
IT recruitment
Unlike software development outsourcing in Poland, where you fully delegate the development of your product to the unknown software team, IT recruitment empowers you to hand pick top-notch software engineers, ensuring a perfect fit for your vision. Along with the tech hiring agency, you become the mastermind behind the recruitment process, making crucial hiring decisions and directly managing your prized team of programmers, onboarding and training included. As a result, you should witness seamless integration and unmatched dedication from such a team, something you'll never get from IT outstaffed and outsourced crews.
This cooperation model is suitable both for tech companies that don't yet have an in-house software team and those that have one but want to expand it. Furthermore, professional IT recruitment vendors have a completely transparent pricing model and prepare detailed invoices, so the client unveils the true value of their investment. Not to mention regular reports with the number of processed CVs, interviews, offers, offer rejections, and suggestions to improve the tech recruitment process.
R&D center
An R&D services model is like a version 2.0 of IT recruitment. Picture this: an R&D provider that not only handles tech recruiting but also takes care of all operational functions, leaving you with more time to focus on the big decisions that drive success. IT companies that choose offshore software development to Poland via R&D agencies can say goodbye to mundane tasks like legal & compliance, accounting, HR payroll, and employer branding, as your R&D partner takes the reins. Your dream team of tech experts integrates seamlessly into your existing setup, reporting directly to you without any intermediaries. They work under your brand, becoming a true extension of your vision. 
Usually, R&D centers are established in far-off locations boasting abundant IT talent, thriving tech ecosystems, lower labor costs, and attractive business conditions. For US-based companies, examples of such destinations are definitely Eastern Europe and some countries in Latin America. 
EoR services
EoR or employer of record is a company that employs software engineers on your behalf and handles the nitty-gritty like compliance, payroll, tax, and employee benefit management. The EoR model is a game-changer for companies eyeing talent from foreign shores without the hassle of setting up legal entities abroad. Mind that programmers employed by EoR providers work for the client company and are only officially employed by the vendor. 
Nevertheless, only a few employers of record offer IT recruitment services, so you're likely to tackle all the hiring challenges in a foreign location yourself. That is why companies that do not have an internal IT recruiting department or have in-house headhunters that are not familiar with the hiring market of your go-to location choose IT recruitment or R&D vendors. 
Consider Alcor BPO Your Trusted IT Recruitment & R&D Provider
Have a look at Dotmatics, a US-based tech company that develops digital products for scientists and has offices in the US, New Zealand, and Ireland. After considering all the pros & cons, Dotmatics decided to step back from traditional IT outsourcing and develop their software products without third parties. They chose Eastern Europe as their go-to destination and reached out to Alcor as a reliable partner to hire an expert software engineering team. To find perfect-fit software developers, our tech recruitment professionals used internal databases, premium HR resources, and social networks. After this, together with Dotmatic's hiring manager, we conducted interviews with best candidates and the client made the final decision. As a result, Dotmatics got its own team of 30 dedicated programmers within a year! These closed positions included the Director of Engineering, Full-Stack Programmer, QA Automation Engineer, and others – some of them closed from the first candidate!   
Alcor is an IT recruitment & R&D services provider that helps product tech companies hire Polish programmers, as well as developers from Romania, Bulgaria, and Ukraine. Recently, we have also entered the Latin American market and provide our tech hiring & R&D services there. Compared to traditional IT outsourcing or outstaffing providers, we will help you hire your own software team and retain full control over the development of your software. Alcor's team of 44 recruiters has high expertise in hiring Senior/Lead developers, even with rare programming skills. Thus, 98% of all our candidates pass the probation period with flying colors in the client company.  
In addition to IT recruitment, our team also provides legal and compliance, HR payroll, employer of record, tax services, employer branding, IT infrastructure setup, procurement management, and other R&D services to help our dear clients create their own R&D branch without the hustle and bustle. Sift, Ledger, and others already work with their own remote teams in the east of Europe!  
So, interested in building your own development team with Alcor?