Nowadays, for every company, it's vital to keep up with emerging trending technologies. However, constant investment in your in-house IT team may be a time and cost consuming method. That's why the introduction of brand-new approaches becomes a necessity. Because of extreme globalization of the IT industry, offshore software development appears to be a relevant solution, although shifting part of your business to another country might seem unattainable at first glance. Nevertheless, if you plan properly and understand the challenges involved, offshoring can maximize your company's productivity.
In this article we will discuss for whom and when offshore software development can be a beneficial solution. Additionally, we will look closer at the essential steps a CEO should take before implementing an offshoring strategy.
So, Do You Need to Start Offshoring Development?
There is no doubt that delivering part of your business to another state or continent is a responsible step. Nonetheless, let's stop wondering whether offshore software development services will relieve your existing pain, and instead have a look at situations where the offshoring model appears to be the most appropriate answer. 
You Need to Scale Your Team
Before making any hasty decisions ask yourself: do you have enough in-house developers? Can they undertake multiple projects simultaneously? If you have doubts, it's time to consider offshore software development. This solution enables you to scale your team of professionals without spending a fortune and risking output quality.
You Require Specialists with a Narrow Expertise
With an offshoring model, it is possible not only to increase your team but improve it in terms of quality. Moving part of your business abroad gives you access to a vast talent pool with narrow specialization. By engaging human resources from foreign countries, you get both international insight and real experts on board.
You Need to Lower Your Operational Costs 
The truth is that nowadays software developers are the most highly-paid specialists in the world. Due to this, when employing engineers in the West you can simply break the bank. Thankfully, the offshoring industry is famous for its budget-friendliness. You can save money by hiring lower-paid human resources. Additionally, you can significantly reduce your operational expenses, such as technical equipment, office lease, facilities, and maintenance, because of the generally cheaper prices and rental value. After that, you get the ability to reinvest the savings per current business needs.
You Want to Focus on Your Product
Among all the offshore software development benefits, the primary one is the possibility to concentrate on core business tasks. Accordingly, this model works as a means to limit your everyday stresses. Just imagine: mundane operations, such as recruitment, payroll, and accounting are managed by a professional service provider overseas. At the same time, you take care of the company's growth and innovation by managing your team of offshore developers independently. Sounds appealing, right?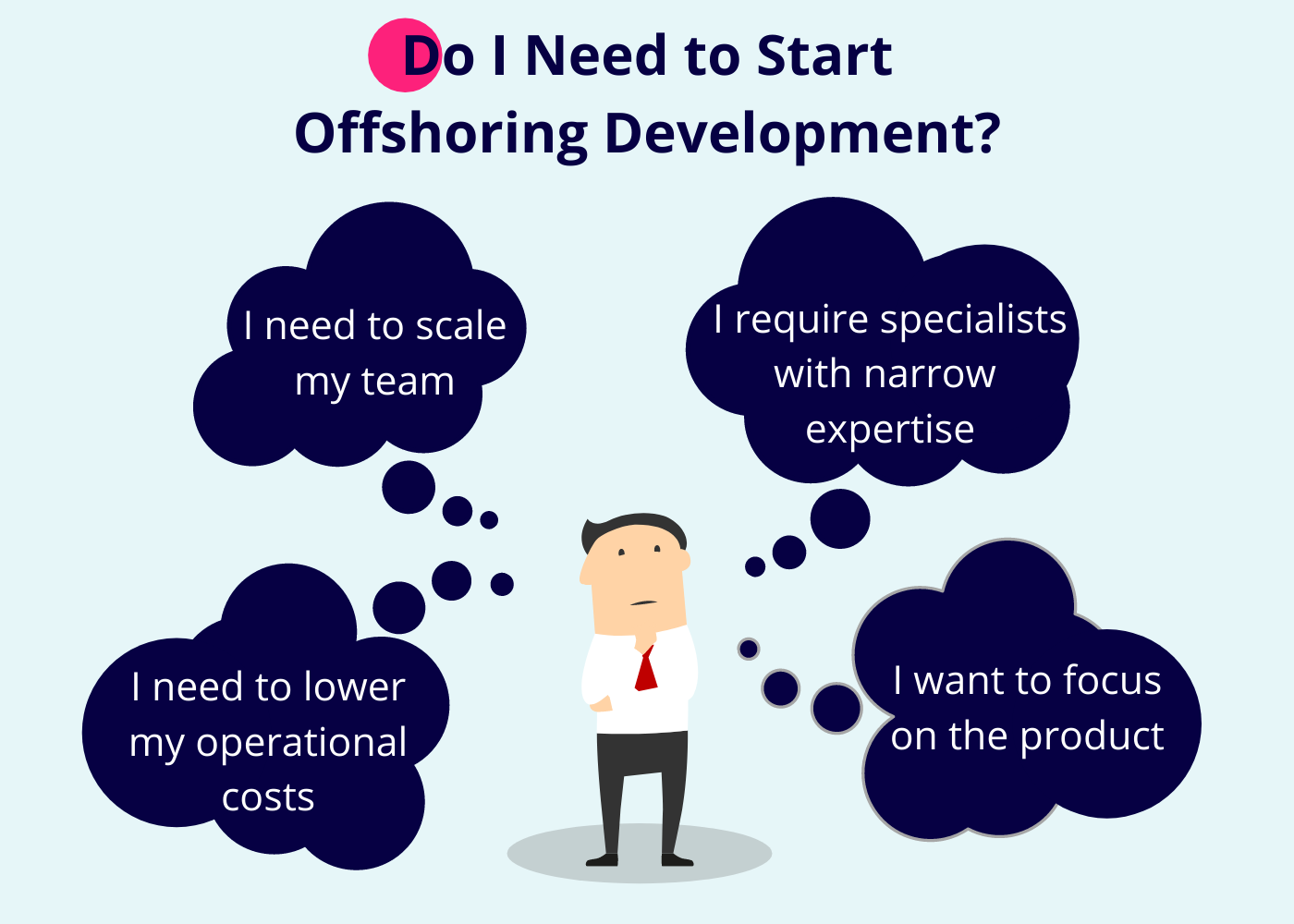 Main Challenges When Starting an Offshore Software Development
Quality of Hiring
One of the main reasons why IT companies resort to offshore software development is the lack of skilled engineers, analysts, and managers. On the one hand, moving part of your business to a new country gives you access to the foreign talent pool. On the other hand, it creates new challenges as regards the techniques of effective hiring in an unknown environment. It might be hard to navigate in a new state, as labor markets and their rules differ from state to state. Therefore, it's crucial to choose a certified HR agency as a recruitment provider. A common mistake made by most business owners is involving several staffing companies simultaneously. It brings nothing but confusion for both recruiters and candidates. Consequently, diverse recruitment strategies slow down the filling of positions while the same candidates are being spammed by several HR managers.
If you consider Eastern Europe as an offshoring destination, Alcor may provide you with full-cycle IT recruitment services. While our researchers study the market and build a perfect candidate's profile, our team of recruiters conducts job interviews and test assignments, requests references, and many more. Using a huge pool of candidates, we choose only the best ones with a proven track record. In a nutshell, Alcor assists you in hiring employees with various tech stacks and expertise – from QA testers to offshore AI developers who are worth their weight in gold.
Ways to Attract New Talents
You have to keep in mind that the employer is not the only one to make a decision. Even the smallest contract aspect might discourage an offshore developer from becoming a part of your offshore software development company. What is more, the true reason may not always be clear due to cultural differences. Thus, it's essential to adjust your internal policies to the national pace of life, vacation periods, and holidays. In fact, such aspects as a limited social package and ambiguous approach to day-offs or sick leaves can be a reason for an offer rejection. Apart from that, you have to offer a competitive salary. Accordingly, you'd better research the median level of wages in the IT industry. However, choose only valid resources based on the survey of employers rather than employees, who often have excessive salary expectations.
Retention of Employees
Once you've found and attracted top talents in the offshoring country, you need to make them feel engaged. Firstly, to meet this objective you ought to secure effective operational management. These days employees get easily tired of the day-to-day tasks, want to see the results of their work and get quick promotions. Such requirements could be fulfilled by rotating workers across tasks and processes, providing the possibility for career growth and the development of new skills. Obviously, due to remoteness, you cannot manage the microclimate in your R&D office on your own. That is the case when your team lead may be of help. This person will not only take care of the daily tasks but also focus on team-building and the personal growth of your software developers. Apart from that, you can read detailed instructions on how to manage your software development team on our blog.
Legal Concerns
Naturally, every single IT company possesses confidential information about their product or services. Accordingly, while sharing part of it with your colleagues overseas you ought to prevent any possibility of data leakage with the help of non-disclosure agreements and qualified consultations. Another legal concern is intellectual rights – your main asset. It is not a surprise that little attention to this matter may result in conflicts or even court trials. Therefore, the importance of the intellectual property rights agreement appears to be obvious. Another means of securing your copyright is to employ IT specialists directly to your company. By doing this, you encourage your foreign team to internalize corporate values and root for your company. The dedicated team will not only minimize the risks of abuse of property rights but also improve your employer brand.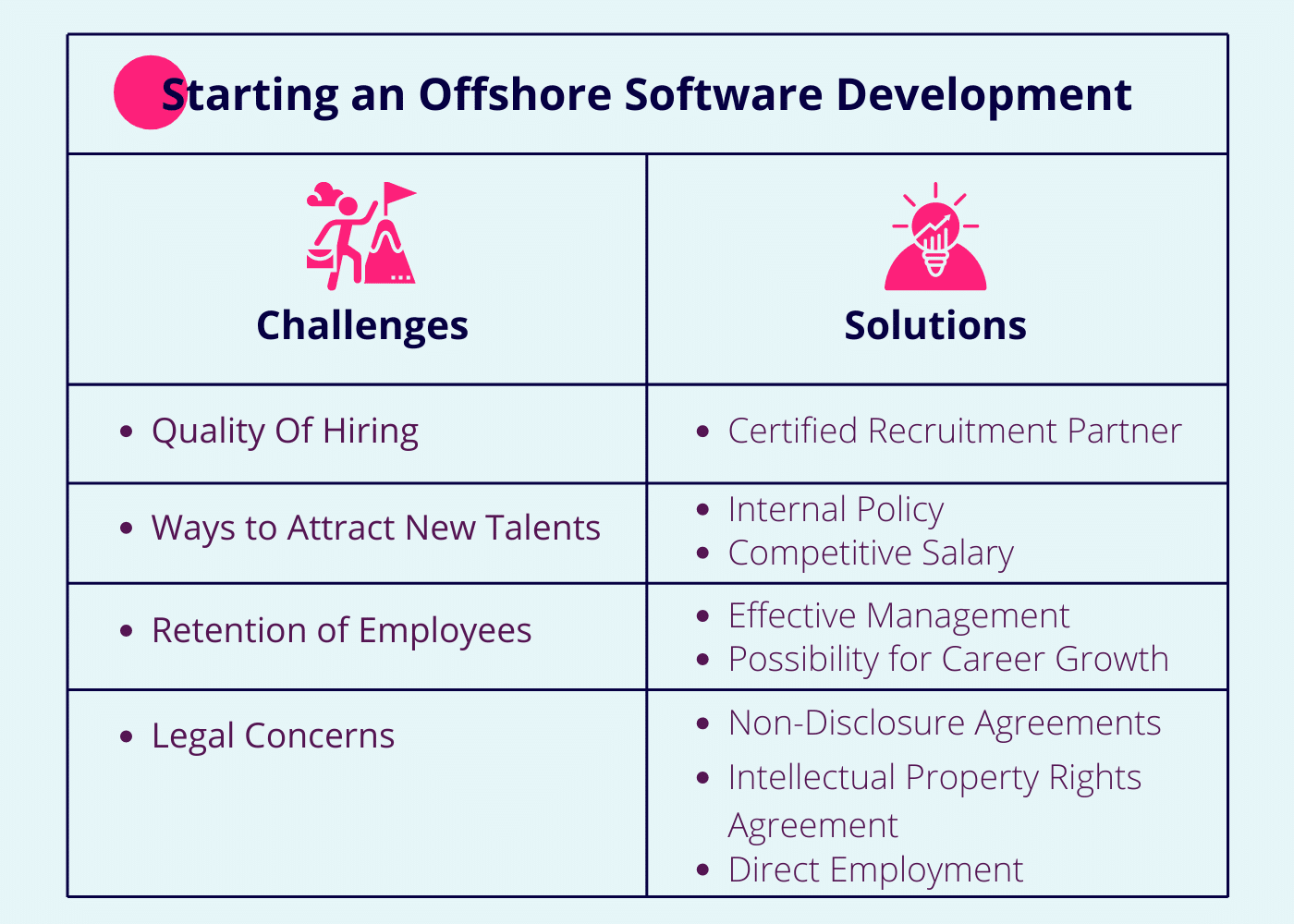 9 Things CEO Should Do Before Starting an Offshore Development
Once you decide to start offshore software development, you have to think over the smallest details and embrace the best practices to reach your goals. Here are the nine points which make the core of your to-do-list.
Decide on an offshoring destination. A decision where exactly to offshore part of your operational tasks is a crucial moment due to several reasons. First of all, it is essential to take cultural differences into account. An offshoring team with opposite values can result in multiple misunderstandings and conflicts. It will only weaken the company's performance.
2. Pay attention to the remoteness of the country and time differences. Distance locations might be an obstacle for often face-to-face meetings. Additionally, due to different time zones, it could be difficult to control the daily activities of your colleagues and synchronize with them. 
3. You should establish the means of effective communication with your colleagues abroad. It is useful to implement the latest trends in the offshore industry. For instance, these include cloud computing for storing data and AI systems to estimate performance. What is more, such applications as Trello, Jira, and Doodle might be helpful in managing tasks and arranging meetings.
4. It's highly advised to research the IT industry of the potential offshore nation. Find out if there are any conferences and events for the IT community; which companies have already entered that market and whether the government provides any type of support for them.
5. Decide on an offshore-based partner. There are several essential stages of selecting an offshore software development partner. First of all, you ought to start with research to discover the partner's location, ratings, number of relevant cases, and pricing through portfolios and reviews. For instance, Clutch is a perfect online resource to look for such data.
6. The next step is negotiations. It's the right time to clarify the pricing model, check its transparency, and see whether it fits your business. Additionally, during the process of negotiations you can get a detailed services description.
7. Pay attention to the hiring speed and tech recruitment expertise. You can request detailed information about employees in the recruitment team to ensure their proficiency and even ask for references.
8. The following step is to ensure that you got the right idea about your cooperation model. To avoid further misunderstandings it's better to make sure you will be somehow involved in the process of recruitment, team management, or salary negotiations. 
9. After an Email conversation and Zoom talk, it is great to arrange a personal visit to the vendor's premises. This appointment plays a vital role, and as a result it can either confirm or reject your first impression. Moreover, you can check physical facilities, office premises, security systems, and finalize agreements. 
We agree that visiting another country is highly problematic right now due to the ongoing pandemic. However, this fact should not stop you from implementing an offshoring strategy. For example, one of our clients have recently managed to set up a dedicated offshore development center without any personal meetings. It became possible with the help of frequent online conferences and productive collaboration with Alcor.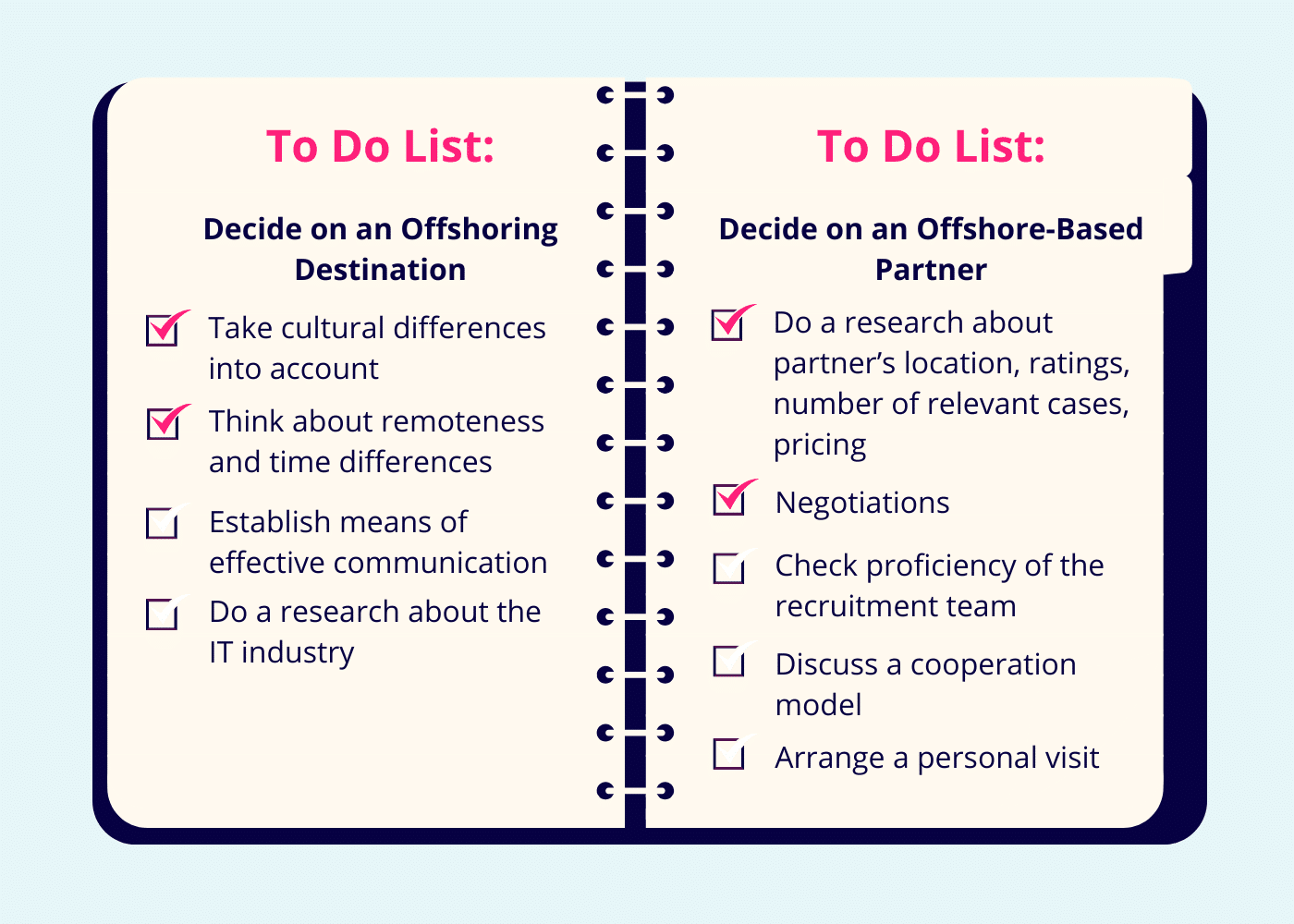 Other Things for Consideration
As you might have noticed, an offshoring strategy involves loads of planning. Take some more points into consideration to be fully prepared for assembling your professional team abroad. Believe us, the outcomes will worth the effort.
Employer Branding
To attract even more candidates, it is better to take care of your employer branding. Actually, when it comes to choosing the workplace, the best candidates weigh their options carefully. Therefore, to increase the chances of job offers being accepted it's better to ensure that your company's name is known within a local market. We know that it is not an easy task. What we also know is how to deal with it and make your business famous within Eastern Europe and Turkey. 
Prior to the time when Tonic Health reached Alcor for employer branding, it was a no-name company in the Eastern European market. At the beginning, they did not manage to assemble their offshore software development center because of frequent job offer rejections. Today Tonic Health enjoys popularity among IT engineers thanks to the full-cycle of marketing services, including SMM and various PR activities. The company highlights that every second candidate who comes to the job interview has heard about them before. Read the full story about how Tonic Health appeared on the Eastern European IT market here. 
Comfortable Office
To maintain good relationships with your colleagues, you should also take care of your team's comfort. The reality is that an R&D center plays a vital role in this task. Pay attention to the details and ensure that your office abroad is well-equipped and has air conditioning, central heating, a sufficient amount of sunlight, workspace metric area, and so on. Don't forget about such location facilities as cleaning services, security, and parking lot as well. 
Taking control over all the mentioned points could be a real challenge. Because of that, Alcor can assist you in opening your fully-equipped R&D center in Eastern Europe and Turkey. We can provide you with real estate services and IT infrastructure setup. Specifically, we will find you an office, negotiate with the landlord, furnish, redecorate an R&D space, and check all workplace facilities. Sounds good, doesn't it?
Legal & Profitable Business 
Sometimes, company owners doubt the possibility of both a legal and profitable business in a foreign state. Our piece of advice is to look for incentive programs, which are provided by the government of developing states. For instance, by launching an offshore software company in Eastern Europe, you can enjoy many advantages, such as a special tax incentive. According to this tariff model, you will pay only 5% payroll tax for each offshore software developer. Alcor can help you with tax planning, tax legal reduction, and ensure transparent business processes. Read the case study with Luxoft to see how we provide legal and compliance services.
Final Thoughts
All in all, offshoring is a smart business move for many reasons. Nevertheless, this solution has its unique challenges that justify the importance of weighing both pros and cons of offshore software development. Only after that, it is possible to create a cost-effective strategy. In our turn, we can help you to enjoy an offshore model to the fullest. In case you choose Eastern Europe as an offshoring destination, Alcor will be happy to assist you with accounting, HR payroll, legal support, real estate, and recruitment. All these operations can be combined, resulting in your own R&D office with our complete support. Moreover, we provide you with a flexible cooperation model, which enables you to choose the scope of services in accordance with your needs. 
In a nutshell, with Alcor you will receive fast and high-quality recruitment, shelter, and business navigation with transparent pricing.