The Hypertext Preprocessor / PHP scripting language is 27 years old but still holds a vital place among other technologies. Businesses can build almost anything with its help, including e-commerce solutions, content management systems, dynamic website templates, or project management tools, etc. Such giants as WordPress, Joomla, and Drupal use PHP. With a team of skilled experts, you can also receive enterprise web development services because PHP is the foundation for organizational in-house applications.
Accordingly, PHP developers are IT specialists who work behind the scenes with back-end components. They develop websites, programs, and applications using this popular coding language. In this article, my team prepared some worldwide research analysis on representative PHP developer salary rates.
What factors determine a PHP developer salary?
Desired skills & knowledge
It's not a surprise that the role of skills and knowledge is crucial when it comes to the salary of a PHP developer. A lot of employers see their ideal candidate as a professional who has solid knowledge in PHP and related frameworks, such as Laravel, Symfony, or CodeIgniter, and database management systems like MySQL. Developers are required to have expertise in HTML, JavaScript, CSS, and CMS.
Another factor that influences the salary rate of these programmers is the type of organization and kind of employment. For instance, there is a difference between agency vs. a freelancing PHP Developer Salary. According to ZipRecruiter, the average annual pay for a self-employed PHP developer or a freelancer in the United States is $89,182 a year (as of spring 2022). Contrary to that, specialists who are employed by tech companies earn around $118,215 per year. Moreover, in-house developers in IT product companies often drive better results and thus earn more than in outsourcing agencies.
The location is another important aspect worth mentioning. The average wages, quality of the work, and your total business expenses depend significantly on the offshoring destination you choose for hiring PHP developers. Just to illustrate:
Salary of a PHP developer (USA) — $7.6-9K per month;
Salary of a PHP developer (Poland) — $1.5-1.9K a month.
That's a tangible difference, isn't it?
Why are PHP Developers Paid Less than Other Developers?
Some people assume that the average PHP developer salary is lower when compared to other languages, because PHP is slowly dying. That's not true. According to W3Techs' data, PHP is used by 77.6% of all websites with a known server-side programming language. So what's the case?
The reason is the popularity and easiness of PHP. There are a lot of study materials, PHP libraries, and resources in open access, which makes it particularly easy to pick up. Loads of PHP developers went from zero technical skills to writing basic PHP apps in just weeks. For these reasons, newcomers massively choose it as their first programming language and compete with other entry-level specialists for clients and company positions. Accordingly, low entry barriers and an abundance of Junior developers bring down the average PHP salary.
However, the industry still provides competitive compensation rates to experienced PHP developers with an advanced level of technical skills. The salary becomes much more comparable to other technologies once a programmer can deal with complex problems and larger projects.
PHP Developer Market Overview
As I have stated before, PHP is far from dead and tech companies still need experienced PHP engineers. As of April 2022, there are more than 9k job openings on Glassdoor for these developers.
Although demand for PHP developers is high, their supply is even higher. According to Developer Nation statistics, the global PHP community increased by more than 2 million professionals during the last three years: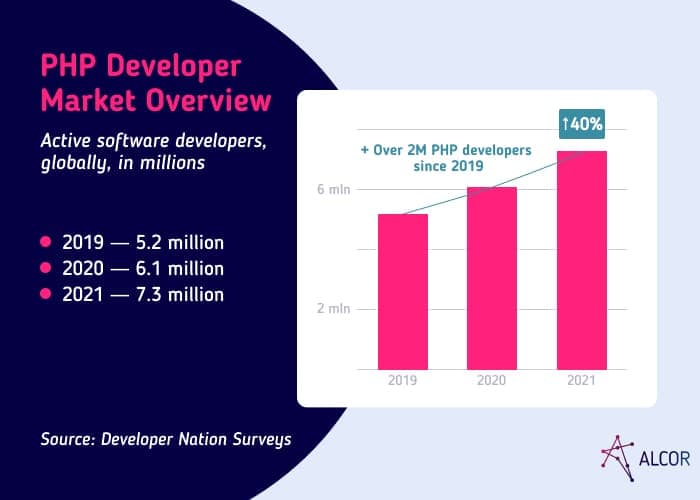 However, it doesn't necessarily mean that all of the 7 million specialists are great professionals or that hiring PHP developers is easy. An employer should pay attention to the hard and soft skills of the candidate, check the portfolio and give technical assignments to hire a pure IT talent. Moreover, there are a lot of newer frameworks and platforms written in PHP, such as Laravel and Magento. It would be even harder to find skilled engineers who are familiar with these technologies.
To ease the hiring process, consider collaborating with a leading agency that provides recruitment services for IT. Such a decision exceeded all the expectations of BigCommerce — an IT product company that develops a cloud e-commerce platform for powering renowned brands. Alcor's IT researchers and recruiters managed to attain the best engineering talents for the company and ensured its rapid business growth. In 6 months we assembled a team of 30+ software developers, 7 of which were great experts in PHP.
Average PHP Developer Salary: Key Takeaways
Salaries can vary in accordance with a specific position, experience level, part-time/full-time schedules, and region. For instance, a PHP Senior developer's salary could be approximately the same in several countries for both PHP Software and Application engineers. Simultaneously, it's a lot higher than the Junior PHP developer's salary within the same country.
Experience levels:
Junior PHP Developer (1-3 years)
Middle PHP Developer (3-5 years)
Senior PHP Developer (5-8 years)
For example, as a Junior PHP developer starting a tech career, you will have to write basic code and do most of the bug fixing. Middle developers are expected to write quality code without supervision. Seniors take on a mentorship role, make decisions and solve problems. The bigger the responsibility, the higher the salary.
Positions:
PHP Software Engineer uses PHP to build software for the underlying operating systems, networks, and platforms. Tech stack: HTML, CSS, JavaScript, MySQL, Vue.js, Linux, C/C++, Python.
PHP Application Developer, sometimes referred to as a software engineer, is responsible for developing the source code for software applications using PHP. Tech stack: Java, C++, Objective C, Linux, SQL, Redux, TypeScript.
Full Stack PHP Developer is a professional who is responsible for both the front-end and back-end sides of the application. Tech stack: HTML, CSS, Javascript, AJAX, MySQL, CMS, MVC, API, Laravel, Bootstrap.
To analyze the average salary of a PHP developer per month across different regions, my team took the base pay from Glassdoor, Talent.com, Payscale, SalaryExpert, Indeed, and Roll The Pay. All the currencies were converted to US dollars at an exchange rate for April 2022. Note that the pay rates are presented in gross.
See the representative numbers in the comparison tables below.
Gross monthly income, USD
North America
South America
Junior
Middle
Senior
Junior
Middle
Senior
PHP Web Developer
$3000
$4000
$4500
$1300
$1800
$2300
PHP Software Engineer
$3000
$3600
$4200
$1100
$1600
$2000
PHP Application Developer
$3400
$4200
$4700
$1300
$1800
$2300
Full Stack PHP Developer
$3800
$4800
$5600
$1500
$2100
$2600
                                                                                                                                    Sources: PayScale, SalaryExpert 
Gross monthly income, USD
Western & Central Europe
Eastern Europe
Junior
Middle
Senior
Junior
Middle
Senior
PHP Web Developer
$3500
$4500
$6500
$1600
$2300
$3000
PHP Software Engineer
$330
$4800
$6000
$1400
$2000
$2500
PHP Application Developer
Full Stack PHP Developer
$4300
$6200
$7200
$1500
$2400
$3200
                                                                                                                                    Sources: PayScale, SalaryExpert
Gross monthly income, USD
Middle East
South Africa
East Asia
Junior
Middle
Senior
Junior
Middle
Senior
Junior
Middle
Senior
PHP Web Developer
$3900
$4300
$5200
$1100
$1300
$2200
$3300
$4700
$5900
PHP Software Engineer
$3500
$3800
$6900
$1700
$2000
$2700
$2700
$3900
$4900
PHP Application Developer
$3600
$4600
$5600
$1500
$3000
$3200
Full Stack PHP Developer
$3600
$4500
$6300
$1500
$2700
$3700
$3500
$5000
$6200
                                                                                                                                    Sources: PayScale, SalaryExpert
Education Requirements and Expertise of
PHP Developers around the World
In order to stand out from the PHP developers crowd, an IT specialist needs to have advanced analytical skills, strong math and logic. In addition, knowledge of design patterns is appreciated among employers, as it can significantly speed up development and improve code readability. Factory, Strategy, and Singleton are some of the most popular ones.
Some IT companies prefer candidates with a Bachelor's degree in computer science. This is because such courses as web programming, computing architecture, quantitative reasoning, object-oriented development, and operating systems appear to be quite useful in everyday work. Such formal credentials as Zend PHP Certification and Certified Scrum Master (CSM) Certification also show credible expertise.
There are a lot of low-priced locations for hiring PHP developers, such as India or Brazil. However, Eastern European countries are considered to have the best quality-price ratio for software development. These states include Poland, Romania, Ukraine, Hungary, and others. They allow access to a huge talent pool of 680 000+ developers with rich expertise, high-quality tech education, and an advanced level of English proficiency. Eastern European developers have a wide variety of programming skills and their knowledge is praised by Western enterprise-level companies. All of these benefits are available for much lower infrastructure and labor expenses than in other parts of the EU. So how much does it cost to hire PHP developers from Eastern Europe? Keep reading this article to find out!
Average PHP Developer Salary in North America
The United States shows the highest average salary rates for PHP developers in North America. It ranges from $6.9K to $10.4K per month. The position of a Full Stack PHP Developer is the most well-paid.
Gross monthly income, USD
The United States
California
Washington
Texas
Florida
New York
PHP Web Developer
$9 407
$9 562
$8 059
$7 938
$9 083
PHP Software Engineer
$8 005
$8 017
$7 083
$6 936
$7 760
PHP Application Developer
$9 132
$9 283
$7 823
$7 706
$8 817
Full Stack PHP Developer
$10 469
$10 485
$9 263
$9 071
$10 149
                                                                                                                                    Source: SalaryExpert
Although Canadian PHP developers also receive decent compensation, it's significantly lower than in the US. The average pay scale spans between $4.7K and $5.7K. When it comes to the most high-income position, PHP Software Engineer is a leader.
Meanwhile, the salary range for a PHP developer in Mexico is several times lower than in other parts of North America. For instance, the average PHP Web Developer's salary doesn't even reach $1K. Three other positions are at the level between $1.2-1.4K.
PHP Developer Salary in South America
A PHP Web Developer in Brazil receives the lowest monthly remuneration in both North and South America — approximately $690. IT specialists who have other PHP jobs earn a bit more than $1K.
Different types of PHP developers in Argentina also get about $1K a month. Similar to the US and Canada, the salaries of a PHP Software Engineer and a Full Stack PHP Developer rank higher than other positions.
Gross monthly income, USD
North America
South America
USA
Canada
Mexico
Brazil
Argentina
PHP Web Developer
$7 997
$4 729
$935
$690
$832
PHP Software Engineer
$8 929
$5 728
$1 222
$1 063
$1 080
PHP Application Developer
$7 651
$4 775
$1 487
$1 083
$895
Full Stack PHP Developer
$8 074
$4 865
$1 338
$1 217
$1 042
                                                                                                                                    Source: Glassdoor
PHP Developer Salary in The United Kingdom
PHP developers have a decent income in the UK. It varies at the level of $3.9-6K. It's also remarkable that the United Kingdom is the only country in Europe that divides the positions of "PHP Software Engineer" and "PHP Application Developer". Other states tend to merge these specialists into one category and offer approximately the same compensation rate.
Gross monthly income, USD
The United Kingdom
England
Scotland
Wales
Northern
Ireland
Average
PHP Web Developer
$5 821
$5 609
$5 454
$4 874
$6 188
PHP Software Engineer
$4 659
$4 532
$4 455
$3 938
$5 040
PHP Application Developer
$5 651
$5 445
$5 294
$4 731
$6 000
Full Stack PHP Developer
$6 094
$5 927
$5 827
$5 150
$6 592
                                                                                                                                    Source: SalaryExpert
Average Salary of PHP Developer in the European Union
Germany provides its IT specialists with competitive compensation. The average base rates are similar to the ones that Canadians have: $4.5-6.1K.
Full Stack PHP Developers from France make approximately the same amount of money as their German fellows. However, the average PHP salary rate is lower: $4-4.5K.
Italian PHP developers earn less than a lot of their European colleagues: around $2.2-3.6K. The position of a PHP Web Developer is the most well-paid in this country.
Spain also proposes comparatively small salaries for programmers who master PHP coding language. The average PHP Web Developer's remuneration is the smallest in the EU: less than $2K. For other positions, the pay rate is a bit higher than $3K.
Norway offers the most appealing compensation for PHP developers in the European Union: $4.3-6K. Norwegian IT companies also provide the highest PHP Full Stack Developer salary: $6064.
The average pay rate across the mentioned PHP jobs in the Netherlands is $3.5-4.2K. Such positions as "PHP Software Engineer" and "PHP Application Developer" are the most well-paid in this country.
Swedish Full Stack PHP Developers make quite a big amount of money: almost $5K. Salaries for other PHP positions are rather moderate with a middle mark of $3.5K.
The average PHP software developer salary in Austria is neither huge nor small. The pay range is small: $3.8-4K.
Belgium provides very generous remuneration for PHP Web Developers: almost $6K. However, other salaries are differentiated. The lowest rank for a PHP position is $2.6K.
Gross monthly income, USD
European Union
Germany
France
Italy
Spain
Norway
Netherlands
Sweden
Austria
Belgium
PHP Web Developer
$4544
$4089
$3634
$1951
$4842
$3544
$3479
$3877
$5907
PHP Software Engineer
$6133
$4544
$2298
$3317
$4341
$4252
$3641
$3816
$2653
PHP Application Developer
Full Stack PHP Developer
$4544
$4544
$3407
$3180
$6064
$3871
$4936
$4090
$4544
                                                                                                                 Sources: Talent.com, PayScale, RollThePay
Average PHP Developer Salary in Eastern Europe
IT companies in Ukraine pay moderate prices for local PHP developers. The pay range is rather small and varies from $2.2 to 2.8K, where the highest mark is a PHP Full Stack Developer salary.
The average pay rates in Poland are the highest in the region: $3.6 to 4K a month. Skilled specialists that work as PHP Full Stack Developers make the biggest amount of money. However, their salaries are lower than in some other European regions.
Different types of PHP specialists in this country get about $2.5-3.1K per month. The salaries of a PHP Web Developer, PHP Software Engineer, and PHP Application Developer are approximately the same.
Tech companies from the Czech Republic offer the second-highest compensation rate for PHP developers in the region: $3.2-3.6K. Nevertheless, these monthly salaries are significantly lower than in other EU states that are located in Central Europe.
Romanian salaries for PHP developers are similar to the Ukrainian ones. The average base pay for different positions varies from $2.2K to $2.6K per month with the highest compensation for Full Stack PHP Developer.
Gross monthly income, USD
Eastern Europe
Ukraine
Poland
Hungary
Czech
Republic
Romania
PHP Web Developer
$2 300
$3 681
$2 594
$3 398
$2219
PHP Software Engineer
$2 200
$3 870
$2 568
$3 263
$2 354
PHP Application Developer
Full Stack PHP Developer
$2 800
$4 065
$3 153
$3 674
$2 638
                                                                                                                                    Sources: DOU, Paylab
PHP Developer Salary in Eastern Asia
According to Salary Expert data, China ranks №2 in terms of the biggest financial rewards for PHP jobs in Eastern Asia. The lowest mark for monthly PHP salary is $3.5K, while the highest is $4.3K.
Japan is an absolute leader when it comes to the highest PHP salaries in the region. They range from $5.1K to $6.7K per month. Full Stack PHP Developers are paid in the most generous way, as well as in other analyzed Asian countries.
The average PHP software developer salary in South Korea is slightly lower than in China. Monthly income for different positions varies between $3-4K.
Gross monthly income, USD
Eastern Asia
China
Japan
South
Korea
PHP Web Developer
$4 103
$6 126
$3 942
PHP Software Engineer
$3 500
$5 157
$3 077
PHP Application Developer
Full Stack PHP Developer
$4 380
$6 721
$4 008
                                                                                                                                    Source: SalaryExpert
PHP Developer Salary in Australia
Overall, Australian compensation rates resemble the salaries we previously saw in Eastern Asia and high-income countries of the EU. They vary from $3.4K to $6.7K. Sydney and Melbourne offer lavish remuneration and enable the highest earnings for three PHP positions out of four. Only the salary for a Full Stack PHP Developer job is higher in another city — Perth. In Brisbane and Adelaide, programmers receive approximately an equal amount of money: $3.4-5K.
Gross monthly income, USD
Australia
Sydney
Melbourne
Brisbane
Perth
Adelaide
PHP Web Developer
$4 997
$4 997
$3 747
$3 515
$3 431
PHP Software Engineer
$6 246
$6 509
$4 684
$4 719
$3 811
PHP Application Developer
$6 785
$5 557
$4 885
$5 898
$4 598
Full Stack PHP Developer
$5 183
$4 059
$4 857
$6 257
$​​5 005
                                                                                                             Sources: Glassdoor, PayScale, Indeed
We Can Help You Hire
the Best Dedicated PHP Developer Team
Alcor is an international IT recruitment agency that hires top programmers for tech product companies. We specialize in hiring Senior/Lead Developers in the countries of Eastern Europe, including Poland, Romania, and Ukraine. Thanks to premium HR sources, global networking, and everyday communication with programmers, we have derived our own huge database of talented developers. Due to our exclusive focus on tech positions and over 10 years of work experience, we successfully match clients and their perfect candidates with advanced skills in PHP, JavaScript, React.js, .NET, and other technologies.
Alcor has already provided "your own remote software team" solution to numerous IT product companies from the USA and EU. One of them is TonicHeath — a tech business that develops a medical data collection platform. The client faced frequent job offer rejections from Senior IT specialists and reached out to Alcor to solve the problem. We offered a range of employer branding services and recruitment marketing to promote the company and its job positions on the market. The recruitment process accelerated, as every second candidate became aware of TonicHeath and its product.
After that, we provided the client with full-cycle IT recruitment with two teams. Our researchers built the right candidate profiles and sourced the developers, while our IT recruiters handled negotiations, conducted all the interviews, and assembled a team of the best software developers. We were also requested to take care of other back-office operations, including office management in Kyiv, legal compliance, accounting and payroll. Alcor orchestrated all necessary processes and resolved HR issues so the client could focus more on their IT product.