In the last few years, many diverse industries and in particular the IT sector, have undergone a number of trials and tribulations. With Covid-19 creating the new normal, The Future of Work Statistics illustrates that in the US alone, a whopping number of businesses (74%) have either switched to the hybrid working model or are planning to do so. Moreover, 55% of professionals are eager to work remotely at least three days a week. 
So, it's no wonder that recruiting remote talent is on the rise for all companies, whether a startup searching for programmers with unique skills or a seasoned company aiming to go global. The development of virtual technology has led to a significant shift as well. With that in mind, the question of how to recruit remotely has never been more pertinent. In this article, I will share a few tips and tricks on how to make the most out of IT talent acquisition. Let's dive in!
What is Remote Recruitment?
Remote recruitment encompasses sourcing, pre-screening, interviewing, and hiring employees remotely. Not being limited by location, it enables a company to engage a wider talent pool and save on hiring costs. 
Benefits of Remote Recruiting
Hiring remotely offers multiple advantages both for employers and employees. From a company's point of view, recruiting talent remotely allows reaching more candidates, which helps to overcome a talent shortage in the IT sphere. Moreover, remote recruiting can minimize the hiring costs since there is no need to conduct job interviews on office premises. And, finally, it can reduce the time to hire as multiple candidates can be interviewed in one day. 
As for employees, among the most frequently mentioned benefits of remote hiring is no need to commute which significantly saves time for more important tasks. The second perk is a lower level of pressure, as candidates feel more confident being interviewed in the comfort of their own home. Last but not least, candidates report better performance on remote job interviews because they don't encounter any office distractions, thus can fully concentrate on the meeting.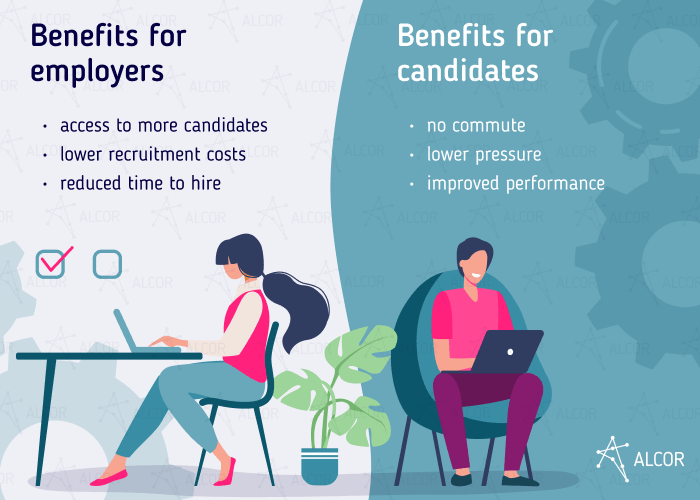 8 Tips on How to Correctly Recruit Remote Employees
1. Research the Market
Firstly, carefully choose and thoroughly research the market where you plan to hire software developers who work from home for your team. For instance, let's say you are thinking about offshoring to Eastern Europe and considering IT recruitment in Romania. In this case, you should discover the local pool of IT specialists, look into their hard/soft skills, compare the salaries of Romanian tech specialists and developers in your own country, as well as get a grip on the local labour laws & taxes. If you're interested, my team and I have already outlined everything you should know about hiring Romanian software engineers. 
2. Build Up Your Employer Brand
If you plan on hiring remote talent, ensure that candidates know about your company by building a powerful employer's brand. Recruiment is a two-way process, meaning that employees choose the company in the same way as it chooses its candidates. For example, senior programmers tend to opt for more well-known companies, so if your company brand is not sought after, IT specialists are more likely to turn down your offers. To stand out, create an irresistible employee value proposition (EVP), grow your social media presence and be an active member of local IT communities. If unsure about how to start, ponder outsourcing the IT recruitment process to a trusted provider.
3. Don't Underestimate Profiling
Now, getting down to recruiting talents remotely, outlining a relevant candidate profile is a must. Talk to your hiring teams and see if you are on the same page about expectations for the position, hard/soft skills, and job experience required. This reflects on your job description and, even more importantly, interview questions. Profiling gives you the opportunity to find a perfect fit provided your recruiters create a unique profile for each position.
4. Map Out the Hiring Process
The next hiring step is setting up the recruitment process, i.e. deciding on the number of job interviews. Generally, tech companies try holding no more than 5 meetings: pre-screening, HR interview, technical interview with a hard skill testing session, interview with upper management, and the final interview. You should also involve your software team in one of these interviews and practice collaborative hiring to make sure you recruit remote workers that are a strong cultural fit. It's recommended not to exceed this number of interviews to prevent candidates from dropping out. 
When hiring for Ledger, a French cryptocurrency company, the Alcor team managed to hold 5 interviews in a day and find a qualified QA Manager in no time. Afterward, we found 9 more QA specialists for Ledger and provided them with full legal compliance. Such efficiency is the result of completing the previous steps, as well as leveraging our experience in international recruitment and having access to an extensive talent pool of 430,000 IT professionals in Poland. All in all, when recruiting remote workers, the world is your oyster, especially if you reach out to a reliable IT recruitment provider. 
5. Embrace Consistent Feedback
Communication is key, and that's why you should focus on feedback from each interviewing stage, especially since delayed or rote responses discourage candidates from proceeding with further interviews. In remote recruitment, feedback is worth its weight in gold since it lets you better clarify your expectations from candidates and adjust your vacancies in accordance with them. At the same time, your candidates learn more about their strengths and areas for improvement, making it possible for them to gain valuable experience and recommend your company in their network. 
6. Make the Most of Remote Recruitment Tools
Switching to remote recruitment has become easier due to tons of effective tools, such as applicant tracking and CRM systems. Platforms like Homerun streamline email communication, while BambooHR is top-notch for overseeing your team workflow. Additionally, video interviewing has gained traction and is now indispensable in recruiting remote employees. You can even enhance distance interviewing by using AI tools to analyze your potential employee's body language and eye contact. 
7. Engage Your Remote Employees
Recruiting remotely means that you will create a diverse team. However, the main stumbling block is that developers may not entirely feel part of your company due to the  lack of communication. That's when onboarding matters a lot. You should start by appointing a mentor to your newly hired IT talents who will guide them through your company's workplace culture, corporate values, communication channels, and peculiarities of their job. Also, make sure that your new programmers get introduced to and welcomed by all team members. Finally, allocate their first several days of work to some proper training (which will contribute to efficient task completion).
8. Strive for Continuous Improvement 
If only you could learn how to recruit remote employees once and then always get it right! For better or worse, failing at some point is a part of the journey. That's why I suggest regularly analyzing your results, particularly because remote recruitment needs to be smooth for the sake of effectiveness. Your IT recruiters need to draw up weekly/monthly progress reports with the number of CVs, interviews, accepted offers and other details depending on your hiring process. Thus, you will discover bottlenecks and can improve each hiring stage. At some point, your team may need additional support from RPO providers or IT recruitment agencies, and I definitely recommend it as another way to boost internal hiring expertise. 
Consider Alcor BPO Your Trusted IT Recruitment Partner
Remote recruiting is complex, and in certain cases, expert help is invaluable. For example, when you need to hire software developers in a new location, you can turn to a dedicated IT recruitment company like Alcor that knows precisely how to hire remotely. 
Dotmatics is an outstanding example of using remote recruiting to expand to other markets. Having launched its digital products for scientific research in the US, Ireland, and New Zealand, the company turned to Alcor with a request to hire a team of software engineers in Eastern Europe within a year. Our team discussed candidate  profiles, adjusted the client's vacancies to the local market, then developed their employer's brand with a unique employee value proposition. Our account managers dealt with all arising questions while tech researchers and 4 headhunters sourced professional programmers and conducted job interviews. As a result of our cooperation, Dotmatics assembled 30 IT professionals, with many positions filled from the very first candidates. 
We at Alcor offer full-cycle IT recruitment in Poland, Romania, and other Eastern European countries. What is more, we can take on your employer branding or provide tech RPO services, plus legal and payroll support. Having developed a reliable IT recruitment system that ensures 4 out of 5 candidates are invited for the interview, we're sure that we can tackle any challenge.