If you are an IT entrepreneur, you should be looking out for a reliable engineering manager who can lead your development team, handle projects, and play an active part in product enhancement and business expansion. Owing to these great responsibilities, companies are always in search of the best candidates. However, hiring a good engineering manager can be quite challenging. So, in this article, I am going to dwell on the specifics of this position and share some of the most common questions to ask an engineering manager in an interview – to help you prepare well for it.
Interviewing a Software Engineering Manager:
Qualifications & Responsibilities
Before I dive into the engineering manager interview questions, I'd like to give you an insight of this role. You'll then know which skills and expertise to include when making your ideal candidate profile.
An engineering manager (EM) is a professional who is in charge of the software development team, projects and processes related to the creation and advancement of IT products & services. Unlike tech leads, an EM' priority is their team members. These specialists are responsible for hiring talents, mentoring and promotion, teamwork maintenance, conflict resolution, and keeping the team on track. Engineering managers also set up the backbone of a project, identifying and delegating tasks, organizing and supervising the workflow. In addition to that, EMs are responsible for solving any arising engineering issues, answering technical questions, plus assessing and approving the end product. Among other duties of an engineering manager are managing budgets, training new employees, communicating with clients and other departments, and writing reports on project progress.
To perform their duties well, engineering managers need to possess profound people management skills, as well as an exceptional understanding of technical and engineering aspects. To test their skills effectively, prepare solid engineering manager interview questions using the list of EM qualifications below. You can also check out our research on the Engineering Manager salary rates across the globe to set a competitive remuneration for your candidate.
Education: Bachelor's degree in engineering; Master's degree in engineering management or technical management.
Team & Project management skills: Interpersonal, decision making, problem-solving, delegation, analytical, constructive criticism, and the ability to see the bigger picture and collaborate with cross-functional teams.
Technical expertise: Vast experience in programming, understanding software development processes, up-to-date knowledge of relevant technologies, ability to identify project requirements, and undertake QA / QC.
Most Common Engineering Manager Interview Questions and Answers
Engineering manager interviews are some of the toughest ones to conduct. This fact can be explained by the high responsibility of this position and the versatility of EM skills & competencies which should be thoroughly examined during the job interview. There are plenty of relevant questions to be asked, but I've narrowed them down to 30 essential ones to help you with the preparation for the interview. First, let's have a look at the 5 most common engineering manager interview questions and answers, then move on to follow-up questions.
1. Why would you like to work for our company?
This is the most frequently asked question in job interviews, and the reason for that is pretty simple – to check the candidate's overall competence and motivation. You'll want to get a well-elaborated answer which describes how the candidate's skills and experience align with this position, as well as their readiness to boil the ocean when doing their job. In addition to that, you can find out if a candidate shares your company's goals and values.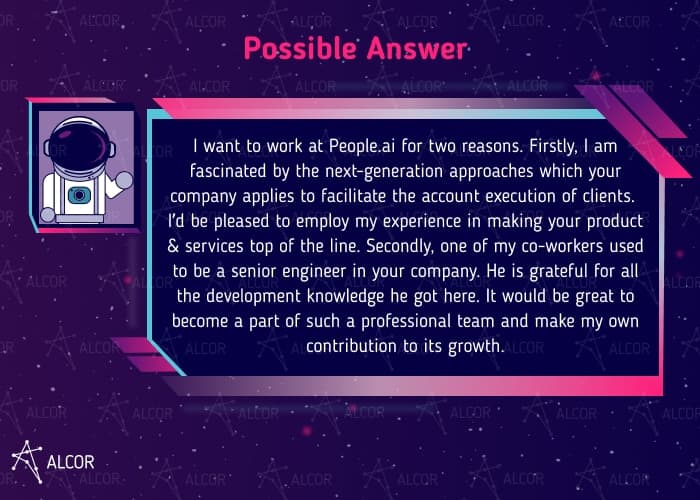 2. How would you enhance our software development process?
When preparing interview questions for an engineering manager, consider including this one if you want to get a deeper insight into the candidate's project management and technical expertise. A good professional knows what it takes to build a high-quality product. Therefore, your ideal candidate should give some examples of methods or instruments that they deem useful for your product improvement.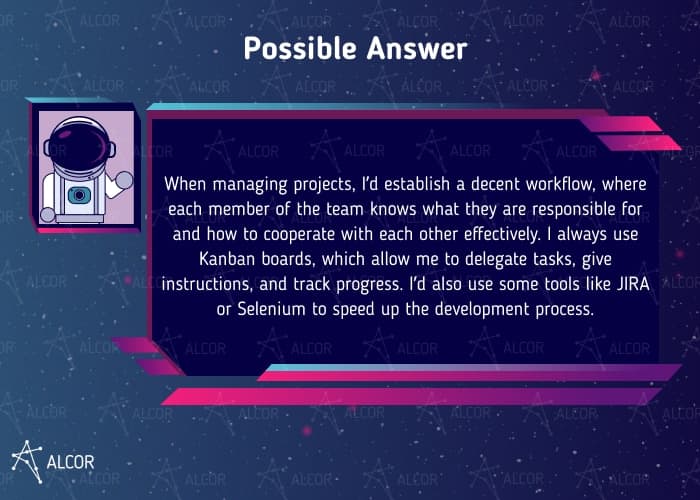 3. What is your approach to hiring top developers?
One of the main tasks of an engineering manager is to find suitable specialists who would both broaden the in-house skill stack and become an integral part of the programming team. When asking this question, you can find out about particular approaches to hiring the right IT specialists and testing their skills.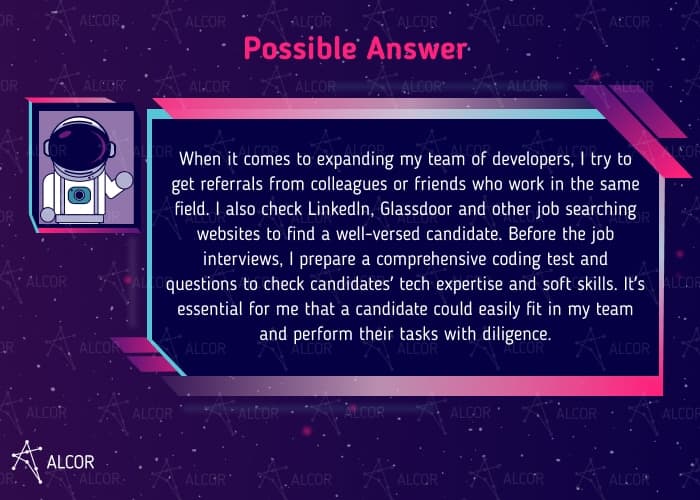 4. How do you motivate your engineers?
A highly-qualified EM should possess strong people management skills to establish coherent teamwork. Thus, it's a good idea to prep a few of such interview questions to ask engineering managers. Your ideal candidate would never consider mocking or instantly firing a member of their team when dealing with the issue of low performance. If a candidate answers so, then it's a red flag for you not to hire this specialist for the EM role.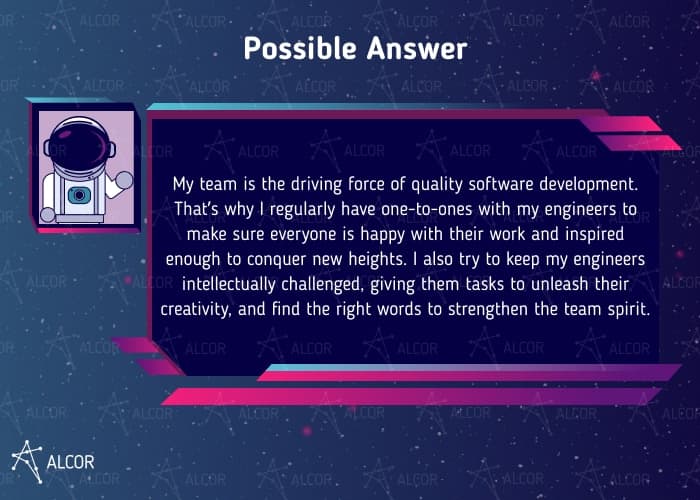 5. Using your previous job experience, explain how you managed to overcome a potential challenge. Which management skills did you apply?
Among other common questions to ask an engineering manager on the interview is the one concerning candidates' critical thinking, decision making, and problem-solving skills. You need an EM who can analyze the situations ahead of time and utilize proactive measures to prevent negative outcomes. Your ideal candidate wouldn't just give up or go with the flow, but offer particular ways of overcoming any potential problems.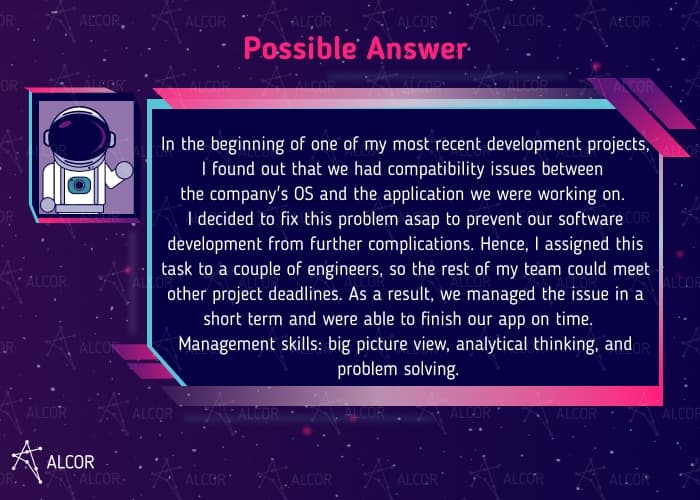 Now let's have a look at 3 specific groups of questions.
Behavioral Interview Questions
If an engineering manager fails to create synergy within the development team, it may lead to a decrease in productivity and poor results. Therefore, when preparing interview questions to ask an engineering manager, I recommend paying special attention to behavioral-based ones. They can give you a clue to understanding whether a candidate possesses the right people management skills to coordinate teams and lead software development. These questions can be subdivided into 3 types.
Culture fit questions are designed to identify whether a candidate's personality aligns with the company's way of working and prioritizing things.
Examples of questions:
6. Tell us about yourself.
7. Why are you leaving your current job?
8. Tell us about a mistake you made and lessons you learned from it.
9. One of our corporate values is innovation (for example). When was the last time you did something innovative?
10. Where do you see the company headed in the next 5 years?
Team management questions can give you an understanding of candidate strategies and methods of mentoring, solving conflicts, and sustaining the productivity of an engineering team. You'd likely want to hire a specialist who can communicate clearly with their software engineers as well as clients, executives, and other departments. This professional should not be afraid of taking responsibility and dealing with challenges.
Examples of questions:
11. How do you deal with low performers? 
12. How do you solve conflicts between team members?
13. When working with a product manager, have you ever seriously disagreed? How did you resolve this issue?
14. How would you describe your role in coaching and career development?
15. Tell us about the case of mentoring a developer that you are most proud of.
Project management questions define the scope of approaches and practices used by EM specialists for work process organization, delivering timely results, and the ability to deal with complex and ambiguous situations. Your ideal candidate should be able to oversee software engineering from start to finish, setting clear goals, assigning responsibilities, monitoring processes, and ensuring smooth cooperation with other departments.
Examples of questions:
16. Which methodology do you usually use for software development?
17. Tell us about the most successful project that you managed. Which strategies / approaches did you utilize?
18. How do you balance feature development and technical debt?
19. How do you break down tasks between your team members?
20. Describe in detail a project that failed. Which lessons did you learn from it?
System Design Questions
Your ideal candidate should have exceptional tech skills and a clear understanding of how to design systems that are highly scalable. When preparing the engineering manager interview questions, compile a few which would test the candidate's creativity combined with technical expertise.
Examples of questions:
21. How do you design a shared drive on the cloud?
22. What are the security aspects to consider while building a healthcare application?
23. Imagine you need to build a new web app interface; what will be your process to achieve it?
24. How would you go about designing a proximity server?
25. How would you design a system like Instagram?
Coding Questions
Usually, IT companies don't ask that many questions about coding, as it's not the primary duty of a senior engineering manager. Nevertheless, any professional who wants to work in such a position is required to possess a decent knowledge of at least one programming language. Apart from that, they should also think in a structured manner, apply good understanding to a range of coding and algorithm challenges, and have the ability to solve tricky problems in core data structures.
Examples of coding questions:
26. Write a program to find if the permutation of a string (given) is a palindrome or not.
27. Given two arrays, write a function to compute their intersection.
28. Write a program to validate a given IP address.
29. You're given the root of a binary tree. Write a code to show the node values at every level.
30. Given an encoded string, return its decoded string.
Engineering Manager Job Interview Questions:
Why Is It Essential to Hire a Good Professional?
The engineering manager is an overarching position which serves as a bridge between people, tech, and business – making them work as one mechanism. If an EM specialist is not able to fulfill their duties accordingly, it may lead to some grave problems. Let's consider them.
Team's inefficiency. If hiring the wrong person for an EM role, your developers may have a hard time fulfilling tasks, face an absence of teamwork, and have low motivation to perform quality work. In the worst-case scenario, your company may be faced with huge staff turnover.
Low-quality product. If a specialist doesn't know how to set up a working process, delegate and prioritize tasks, make decisions and cope with problems, your product may end up of a low quality. Consequently, you may lose your customers or investors who are the main source of the company income.
Business side effects. Engineering managers are not only responsible for team and project management, but also play a key role in business growth. You don't want your EM to work only for money because in this case, they won't be interested in coming up with innovative ideas and solutions to business optimization and amelioration.
Consider a Turnkey Alcor BPO Solution to
Reveal the Best Engineering Manager for Your Team
As you can see, an engineering manager position is not the easiest one to fill. Therefore, the best way to hire a competent specialist for your enterprise is via a professional IT recruitment company. Alcor BPO has been engaged in tech recruitment for more than 10 years. We have already helped such internationally renowned corporations as Grammarly, People.ai, Sift, Ledger, and Tonic Health to hire dedicated development teams in Eastern Europe. 
To headhunt good senior and lead specialists for clients, our IT researchers and recruiters assist in compiling an ideal candidate profile, pre-screen eligible candidates, conduct interviews, make job offers and work with counter-offers if needed. We guarantee the quality of our recruitment services, providing a 3-month warranty for candidate substitution free of charge.
That's what we did for Dotmatics (acq. by Insightful Science), a leading life sciences software company, when they were seeking an engineering manager. Our candidate appeared to be a perfect fit for them, as his qualifications matched with our client's requirements and expectations. Now this specialist is in charge of 30+ engineers (including product manager, full-stack, back-end, QA, and React developers) who were also hired with Alcor's assistance. Apart from IT recruiting, we also provided Dotmatics with other services, included in Alcor's turnkey solution. We helped them to establish their own software research and development center in Eastern Europe. Our team took over some of the back-office operations, such as payroll & accounting, legal compliance, and procurement of technical equipment to ensure the smooth functioning of their R&D center. Dotmatics continues to enjoy our productive cooperation and is looking forward to a further extension of their offshoring team of developers.
Final Thoughts
The engineering manager is a responsible position that presupposes a versatility of skills & competencies to successfully coordinate programming teams, manage projects, and come up with new ideas for product enhancement. To hire a good professional, it's essential to prepare 3 types of questions asked in the engineering manager interview. In this way, you'll get a comprehensive understanding of the candidate's expertise and ability to lead.
Yet recruitment of such a specialist can be quite time-consuming, thus better to choose Alcor as your trusted partner to hire the best engineering manager in one of the Eastern European countries.